Become an Informed Investor
Instant free access to best stock rating website online, including investment research, stock picks, and much more.
Investment Research & Tools

Gain access to investment research and tools that place good companies in your portfolio. Free access to our stock analysis tools and software provides investment research, stock picks, Danger Zone reports, and much more to keep you focused on buying high-quality companies.

New Insights

Expect to find new insights and resources to keep your portfolio growing.

Weekly Updates

Each week you receive updates so you can stay on top of all the stock, ETF, or mutual fund reports that match your goals and resources.
When you understand your investment decisions you have conviction. This means you can reduce risk by focusing on quality companies with reliable cash flow.
The best stock rating website can do just that.
We analyze the details and find stocks that have a logical reason for you to buy. Each report makes your decision to buy or sell easier because you understand why you made the investment.
Why New Constructs is Unique
New Constructs is different because we scour the footnotes before we give a rating. Most Wall Street jargon gets tossed at you with shallow depth to the research. This results in picking stocks with outdated metrics such as P/E ratios.
To attain wealth, you need an effective and systematic method to dig deeper. Smart investors demand better information before making their next stock pick, something the best stock rating website can help you do fluently. Our stock analysis tools and software dig deep into the financial footnotes for you to provide detailed reports effortlessly.
Financial Statement Footnotes
Financial statements are supposed to tell a story about earnings but in reality, they only tell us the final score.
It's common for financial data to have various accounting principles applied. This leaves the reported results up to interpretation by auditors. New Constructs CEO David Trainer is a member of the Investor Advisory Committee that advises FASB, the Financial Accounting Standards Board, which means the ratings in your reports represent the newest standards of investment research.
You'll get access to institutional quality valuations instantly with free access to the best stock rating website. This is how you find great investments and reduce risk. The true risk in your portfolio is the quality of the information that leads to the purchase or sale.
Good information pays for itself. In the hands of the smart investor, it's an investment not an expense.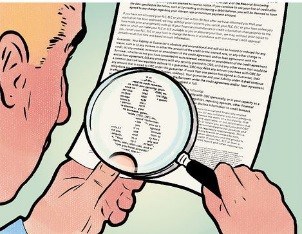 We research the footnotes for you, which results in the ratings system we apply to your reports. This means you can be confident in the diligence supporting your decisions.
We rate all companies covered from Very Attractive to Very Dangerous. This rating system reflects the deeper research into the footnotes we perform for you. Only the best stock rating website makes such complex metrics so easy to understand.
New Constructs is the only investment research provider with an approved United States Patent for a system and method to analyze financial information to automatically determine the true profitability of a company.
The number of possible footnote disclosures is extremely long, but our stock analysis tools software finds them all. We look forward to being a valuable resource in your journey to grow your stock market portfolio.
Access Expert Investment Research
Danger Zone: New Reports released each week covering one stock in the Danger Zone with a sell or short sell recommendation. Includes audio from David Trainer's weekly Danger Zone discussion with Chuck Jaffe.
Education & Ebooks: The best stock rating website includes key lessons and guides that improve your investing skills and knowledge. The Investment Research Manifesto is your 34-page user guide to understanding the process of finding good companies. Keep it as a reference to get the greatest value from the New Constructs reports and tools.
Sector Ratings Report: Your search for great companies and a potential winning investment starts with rating each sector. This detailed sector research helps you make good decisions to grow your portfolio. This report is the perfect place to begin your research for new ideas.
Market Cap and Investment Style Ratings Report: Quickly narrow your search to stocks with a specific market cap or those that match a particular style. As you build out your personal library of research reports within the best stock rating website, you will spot profitable scenarios that help you manage and adjust the positions in your portfolio. Past performance does not guarantee future results but success does leave clues. An overview of large, mid, and small cap stocks by investment style.
Past Performance Report: To help you gain conviction in our ratings we provide quarterly results for The Most Attractive and Most Dangerous stocks. This means you will have To help you gain conviction in the ratings our stock analysis tools and software deliver, we provide quarterly results for The Most Attractive and Most Dangerous stocks. This means you will have a track record of results from our top picks so you can validate our ratings. The Past Performance Report shows New Constructs results versus benchmarks since inception in 2005. The report also offers shorting or selling opportunities for the stocks with Red Flags and buying scenarios for the Hidden Gems, something only the best stock rating website provides.
Podcasts: Unique insights, analysis and the whole truth with New Constructs CEO David Trainer and the occasional guest.
Best and Worst Mutual Funds: Evaluate the holdings in your retirement account or to find new investments. Updated quarterly so you will have the highest rated New Constructs mutual funds and those which forecast trouble ahead. You can compare what you own to other possible ideas. By sector and by market cap and style
Best and Worst ETFs: Active, self-directed investors prefer ETF investments because they are designed to be liquid. When you spot a new opportunity you want to take action. This report gives you the best and worst ETF ratings by sector, by market cap and by investment style so you can move quickly when new ratings are published.
Get Investment Research That Reads the Fine Print