New Constructs Gold Membership
In your journey to manage risk and attain wealth, the New Constructs Gold Membership provides you a comprehensive and systematic roadmap to make confident decisions.
Investment Research & Tools

The investment research, stock picks and portfolio tools encompass the methods and philosophies of legendary investors such as Warren Buffett and Benjamin Graham.

Outperform the Averages

You can outperform the averages and build a portfolio that grows over time when you apply the tools correctly. Your membership includes lessons that help you get the greatest value out of the resources.

Monthly Updates

The ratings and stock picks you receive are easy to understand and updated every month. Your monthly updates place any ratings changes on your member dashboard so you have quick access to any minor adjustment that may be necessary.
Timing the market is extremely difficult. Value investing eliminates this problem for you. This means you are in position to succeed from the start. Your Gold membership helps reduce portfolio risk because you can choose from the highest rated stocks. This benefit removes "buy and hope" from your stock picks.
The concept of value investing is easy to understand:
Find good companies that have quality earnings.
Buy those companies at the right price.

This value investing process is the DNA that runs through our reports and tools. Your investment in an annual membership helps you eliminate the need to spend hours doing research. It also gives you control of the conversation when your stock broker calls with a hot new idea.
Your Gold Membership does the research for you, which means we place the companies you select into an easy to read report with a clear rating.
We make it easy for you to make confident decisions. In the long-run, the stocks you place and keep in your portfolio are a direct reflection of your commitment to grow and protect your money. You should never settle for free or generic advice. Your future is closer than you think and every decision matters.
You will clearly understand why a report recommends to buy or sell. The tools are comprehensive but easy to follow so your decisions are made with conviction.
Finding Good Companies and Trusting the Research
You might be thinking that value investing sounds like a lot of work. You might also be wondering if you really have the skill to do the analysis or pick winning stocks. If so, don't worry – it is possible to be a successful value investor without being an accountant.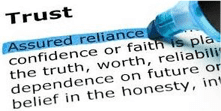 You can feel confident in our research, here is the reason why.
New Constructs CEO David Trainer is a member of the Investor Advisory Committee that advises FASB, the Financial Accounting Standards Board. This means the ratings in your reports represent the newest standards of investment research.
This means as a Gold subscriber you can find good companies, at the right price with investment research that is held to the highest standards. In the hands of a smart investor good research pays for itself. For the cost of dinner and a movie, you have access to twelve months of institutional quality information.
Benefits of Gold Membership
Your Gold Membership Includes:
Education & Ebooks: Key lessons and guides that improve your investing skills and knowledge.
Sector Ratings Overview: Legendary investing starts with buying the leaders. Begin your search for great stock picks in the highest rated sectors. Overall ratings for each of the 10 sectors.
Past Performance Report: To help you gain conviction in our ratings we provide quarterly results for the Most Attractive and Most Dangerous stocks. This means you will have a track record of results from our top picks so you can validate our ratings. The Past Performance Report shows New Constructs results versus benchmarks since inception in 2005. The report also offers shorting or selling opportunities for the stocks with Red Flags and buying scenarios for the Hidden Gems.
Podcasts: Unique insights, analysis and the whole truth with New Constructs CEO David Trainer and the occasional guest.
Most Attractive Stocks Report: The forty Most Attractive Stocks to buy each month in large-cap, mid-cap and small-cap range. This report is packed with twelve pages of new ideas to buy each month.
Most Dangerous Stocks Report: Forty of the Most Dangerous Stocks to avoid, sell or short sell. If you aren't sure when to sell, this is your guide.
Stock Pick of the Week: One new long idea to consider buying every week. Each report contains an up-to-date rating and comprehensive New Constructs investment research.
Danger Zone: Podcast and Report: New Reports released each week covering one stock in the Danger Zone with a sell or short sell recommendation. Includes audio from David Trainer's weekly Danger Zone discussion with Chuck Jaffe.
Best and Worst ETFs: Active, self-directed investors prefer ETF investments because they are designed to be liquid. When you spot a new opportunity you want to take action. This report gives you the best and worst ETF ratings by sector, by market cap and by investment style so you can move quickly when new ratings are published.
Best and Worst Mutual Funds: Evaluate the holdings in your retirement account or to find new investments. Updated quarterly so you will have the highest rated New Constructs mutual funds and those which forecast trouble ahead. You can compare what you own to other possible ideas. By sector and by market cap and style
Sector Ratings Report: Your search for great companies and a potential winning investment starts with rating each sector. This detailed sector research helps you make good decisions to grow your portfolio. This report is the perfect place to begin your research for new ideas.
Market Cap and Investment Style Ratings Report: Quickly narrow your search to stocks with a specific market cap or those that match a particular style. As you build out your personal library of research reports you will spot profitable scenarios that help you manage and adjust the positions in your portfolio. Past performance does not guarantee future results but success does leave clues. An overview of large, mid, and small cap stocks by investment style.
Portfolios: Scan for new ideas, get ratings and investment research reports. Keep the best companies, ETFs or mutual funds in your portfolio builder and get weekly updates so you can manage and grow your assets with confidence. This is where the value investing process becomes automated for you.
Symbols per Quarter: Custom build your portfolios with up to 25 symbols (stocks, ETFs, or funds) and swap them out up to 25 times to maximize your mix of great investments.
Filter Stocks, ETFs, & Mutual Funds by Sector: Screening for symbols by sector helps you focus in on areas where your portfolio needs diversification. Our powerful search engine lets you filter by Consumer Discretionary, Energy, Healthcare, Information Technology, Telecom, Consumer Staples, Financials, Industrials, Materials and Utilities.
Filter Stocks by Index: Filter your search by inclusion in the S&P 500, or any of the Russell 1,000, 2,000, or 3,000 to consider how broader index movements will impact your portfolio, and to enhance your diversity of holdings.
Filter ETFs & Mutual Funds by Style: Filter ETFs and mutual funds by market cap and investment style. Find the best Large Cap Value mutual fund or Small Cap Growth ETF with our powerful screener.
Email Alerts: Receive alerts to changes in the ratings on stocks you have saved in your Portfolio so you know right away when the prospects of your investments have changed based on our proprietary algorithms. You can take immediate action when you are informed.