Pro Membership: For Registered Financial Professionals
How to establish your expertise, attract new clients and grow assets under management with the most comprehensive investment research available.
High Net Worth Clients are Actively Searching for Someone to Trust
Improve Your Odds

In their search for an advisor, up to 72% of their questions are answered through online research before they pick up the phone. How can you increase the odds of that call coming to you?

Differentiate Your Practice

Information that positions you as the credible, well-informed financial advisor is the key to differentiating your practice and growing assets under management.

Earn Referrals

Earn referrals with reports and tools that go deeper than mass produced information. New Constructs investment research validates the existence of ethical advisors who can communicate what's important.
High Net Worth Clients are Not a Faceless Demographic
Each Family is Unique

They don't share similar goals, values, and investment approaches. Each family has a unique need they expect you to satisfy. This means you need to provide investment research that functions as a prospecting tool.

Uncover Preferences

You need to uncover specific preferences so you can stand out and validate their trust. A sophisticated investor expects the strongest diligence and forward-looking forecasts.

Establish Credibility

Free research or mass produced company reports will demonstrate your lack of effort. You need to establish credibility before you can establish trust.

You Must Be Different

You must demonstrate to high net worth clients your research and knowledge is something different. A New Constructs Professional Membership is the tool that differentiates your practice.
How Diligent Investment Research Attracts High Net Worth Clients
Clients want to feel a personal relationship with you. They want to believe you are interested in their story and how they relate to money. While your ideal clients may share similar demographics and amounts of investable assets, each will be looking for a personalized relationship. The importance of implementing New Constructs investment reports as a tool to establish and build trust cannot be overstated.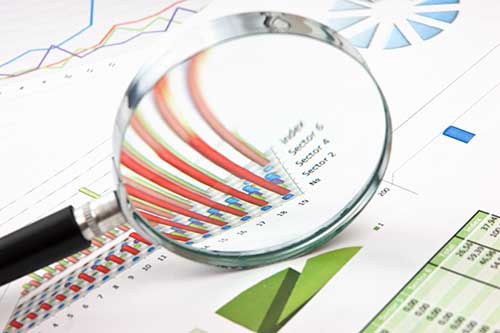 You have access to our entire suit of portfolio tools and scanning software so you can segment reports to uncover a potential client's preferences. Trust and empathy are of utmost importance to the high networth client. Among investors without an advisor, lack of trust and diligent research were listed as the primary reasons for not choosing an advisor.
The characteristics that top earning advisors share is a demonstration of authority and access to superior ideas. To develop a premium experience, consistent communication is necessary. Timely, well-produced information is required to personalize your clients' experience.
New Constructs Professional members have exclusive access to unlimited investment research. The reports are a valuable marketing tool for many advisors to establish trust and authority with regular communications.
Your clients will look forward to the updates and often share your ideas with friends and family, which translates into a healthy return on investment for you.
New Constructs investment research and portfolio tools provide you this edge.
You will find it more efficient to attract new business and referrals with research and tools that position you as the well-read advisor who offers the most diligent research available.
Establishing Value with High Net Worth Clients
In today's competitive landscape, a clear demonstration of value is required to begin the conversation with a high net worth investor. Proactive communication is significant to high net worth clients. New ideas and updates demonstrate you are offering personalized service and are putting their needs first.
A New Constructs Professional Membership provides access to thousands of stocks, ETFs and mutual fund reports, which result in personalized communication supported by the most comprehensive diligence on Wall Street.
This unique value proposition of customized research develops trust because the reports pertain directly to the needs and interests of your clients. Mass-emailed newsletters are no longer sufficient tools to build to grow assets under management. Clients want educational materials to be relevant to their needs, goals and interests. When you are the advisor who provides this level of service, you demonstrate your authority, expertise and skills instead of needing to sell them.
Start your New Constructs Professional Membership today and begin offering high net worth investors the type of information that demonstrates they can trust you with their financial future.
New Constructs investment research should be your tool of choice to communicate why you are different. Implement the reports, scanner and portfolio builder today so you can compete successfully for your ideal client. Let your diligence do the selling so you can focus on the relationships.
Move beyond free and mass produced-research and implement the new standard of investment research in your practice.
Begin your Professional Membership today.
Benefits of Professional Membership
Your Professional Membership Includes:
Education & Ebooks: Key lessons and guides that improve your investing skills and knowledge.
Sector Ratings Overview: Legendary investing starts with buying the leaders. Begin your search for great stock picks in the highest rated sectors. Overall ratings for each of the 10 sectors.
Past Performance: To help you gain conviction in our ratings we provide quarterly results for The Most Attractive and Most Dangerous stocks. This means you will have a track record of results from our top picks so you can validate our ratings. The Past Performance Report shows New Constructs results versus benchmarks since inception in 2005. The report also offers shorting or selling opportunities for the stocks with Red Flags and buying scenarios for the Hidden Gems.
Podcasts: Unique insights, analysis and the whole truth with New Constructs CEO David Trainer and the occasional guest.
Most Attractive Stocks Report: The forty Most Attractive Stocks to buy each month in large-cap, mid-cap and small-cap range. This report is packed with twelve pages of new ideas to buy each month.
Most Dangerous Stocks Report: Forty of The Most Dangerous Stocks to avoid, sell or short sell. If you aren't sure when to sell, this is your guide.
Stock Pick of the Week: One new long idea to consider buying every week. Each report contains an up-to-date rating and comprehensive New Constructs investment research.
Danger Zone: Podcast and Report: New Reports released each week covering one stock in the Danger Zone with a sell or short sell recommendation. Includes audio from David Trainer's weekly Danger Zone discussion with Chuck Jaffe.
Best and Worst ETFs: Active, self-directed investors prefer ETF investments because they are designed to be liquid. When you spot a new opportunity you want to take action. This report gives you the best and worst ETF ratings by sector, by market cap and by investment style so you can move quickly when new ratings are published.
Best and Worst Mutual Funds: Evaluate the holdings in your retirement account or to find new investments. Updated quarterly so you will have the highest rated New Constructs mutual funds and those which forecast trouble ahead. You can compare what you own to other possible ideas. By sector and by market cap and style
Sector Ratings Report: Your search for great companies and a potential winning investment starts with rating each sector. This detailed sector research helps you make good decisions to grow your portfolio. This report is the perfect place to begin your research for new ideas.
Market Cap and Investment Style Ratings Report: Quickly narrow your search to stocks with a specific market cap or those that match a particular style. As you build out your personal library of research reports you will spot profitable scenarios that help you manage and adjust the positions in your portfolio. Past performance does not guarantee future results but success does leave clues. An overview of large, mid, and small cap stocks by investment style.
Comprehensive Sector Analysis: Each sector report includes: Rating and Rank with detailed analysis of the sector, stock picks, ETF and mutual fund recommendations for broad exposure. Sectors Included: Consumer Discretionary, Energy, Healthcare, Information Technology, Telecom, Consumer Staples, Financials, Industrials, Materials and Utilities.
Comprehensive Market Cap and Investment Style Analysis: Your different resources and needs require choices. Selecting investments based on the market capitalization of a company is smart. Your risk tolerance and goals may open new opportunities to invest in smaller companies with potentially explosive moves or you may prefer established companies. Investment styles vary as well. This report is a terrific resource that provides additional options for you to consider. Rating and Rank with detailed analysis of the market segment and investment style, with stock picks, and ETF and mutual fund recommendations for broad exposure.
Portfolios: Scan for new ideas, get ratings and investment research reports. Keep the best companies, ETFs or mutual funds in your portfolio builder and get weekly updates so you can manage and grow your assets with confidence. This is where the value investing process becomes automated for you.
Symbols per Quarter: Custom build up to 5 different portfolios with up to 100 symbols across those portfolios (stocks, ETFs, or funds) and swap them out up to 100 times to maximize your mix of great investments.
Filter Stocks, ETFs, & Mutual Funds by Sector: Screening for symbols by sector helps you focus in on areas where your portfolio needs diversification. Our powerful search engine lets you filter by Consumer Discretionary, Energy, Healthcare, Information Technology, Telecom, Consumer Staples, Financials, Industrials, Materials and Utilities.
Filter Stocks by Index: Filter your search by inclusion in the S&P 500, or any of the Russell 1,000, 2,000, or 3,000 to consider how broader index movements will impact your portfolio, and to enhance your diversity of holdings.
Filter ETFs & Mutual Funds by Style: Filter ETFs and mutual funds by market cap and investment style. Find the best Large Cap Value mutual fund or Small Cap Growth ETF with our powerful screener.
Filter by Rating: Get easy access to all the stocks, ETFs and mutual funds rated Very Attractive, Attractive, Neutral, Dangerous, and Very Dangerous. This premium feature lets you dial into the best and worst stocks, making the selection of new investments a breeze.
Filter Stocks by Advanced Metrics: Get the most from our powerful stock screener with access to the numbers behind the ratings. Filter your search with the advanced metrics we use to rate stocks. Refine your search for the best stocks by filtering on Return on Invested Capital (ROIC), Free Cash Flow Yield (FCF Yield), Price-to-Economic Book Value (PEBV), and Growth Appreciation Period (GAP).
Filter ETFs & Mutual Funds by Fund Details: Filter funds by assets, initial minimum, provider, or Total Annual Costs - New Construct's proprietary metric that makes the real cost of every ETF and mutual fund easily comparable in a single number.
Email Alerts: Receive alerts to changes in the ratings on stocks you have saved in your Portfolio so you know right away when the prospects of your investments have changed based on our proprietary algorithms. You can take immediate action when you are informed.