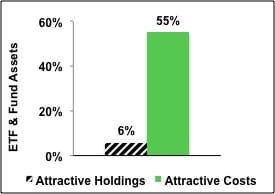 Fund holdings affect fund performance more than fees or past performance. A cheap fund is not necessarily a good fund.
Our research on fund holdings enables investors to find funds with high quality holdings – AND – low fees.
Only one sector, Consumer Staples, earns my Attractive rating. See Figure 1 for my rankings of all ten sectors. My sector ratings are based on the aggregation of my fund ratings for every ETF and mutual fund in each sector.