Expert Tools for Institutional Investors
With the top stock analysis software, you get unlimited research, valuation models, database access, and custom reports.
Get Unlimited research, valuation models, and access to the API & Excel add-in for $3,600/month.
Schedule a demo with one of our experts. $3600/month per seat. Volume discounts apply. Custom packages available.
Compare New Constructs to the Competition
Machine learning makes the best stock investing software better, smarter, and faster than the competition. New Constructs offers more coverage with a focus on rigorous cash flow analysis than the competition. Our models are built on a data set that includes critical information from the footnotes and MD&A that other firms miss. We are totally transparent in our calculations and link all data back to the original SEC filings. We're truly independent and don't get paid by the companies or funds we cover.
Why New Constructs is Unique
New Constructs differentiates its research by analyzing the financial statements, footnotes and MD&A in 10-Ks & 10-Qs for all companies under coverage. Powered by machine learning, our top stock analysis software does more than a human analyst ever could, unearthing details previously missed. Our patented system for reversing accounting distortion and determining the true value of companies enables us to unearth hidden gems and red flags buried in Financial Footnotes and Management Discussion & Analysis to make our models more reliable and accurate.
Our best stock analysis tool never asks you to take our word for it. Proof of the value of our research is in the performance of our stock picks as you can see in our Proof Is In Performance reports and in our stock-picking accolades from Barron's, CNBC, Institutional Investor and etc.
Footnotes and the MD&A Matter
Financial statements are supposed to tell a story about earnings but in reality, they only tell us the final score. Our top stock analysis software fills in the blanks.
It's common for financial data to have various accounting principles applied. This leaves the reported results up to interpretation by auditors. But with the best stock analysis tool, you never have to guess. New Constructs CEO David Trainer is a member of the Investor Advisory Committee that advises FASB, the Financial Accounting Standards Board, which means the ratings in your reports represent the newest standards of investment research.
Good information pays for itself. In the hands of the smart investor, it's an investment not an expense.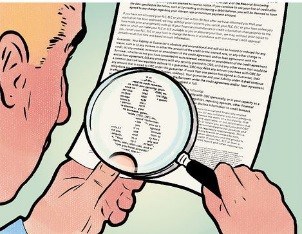 We research the footnotes for you, which results in the ratings system we apply to your reports. This means you can be confident in the diligence supporting your decisions.
Our top stock analysis software rates all companies covered from Very Attractive to Very Unattractive. This rating system reflects thie deeper research into the footnotes we perform for you.
New Constructs is the only investment research provider with an approved United States Patent for a system and method to analyze financial information to automatically determine the true profitability of a company.
The number of possible footnote disclosures is extremely long but we find them all. We look forward to being a valuable resource in your journey to grow your stock market portfolio with the smartest, most thorough, and best stock analysis tool on the market.
Expert Investment Research Tools
Valuation Models for 3000+ Stocks: Access the most sophisticated and accurate stock valuation models in the business with our top stock analysis software. See all the adjustments we make to close accounting loopholes linked back to the original 10-K. See our DCF models and create your own custom forecasts and valuation models.
Dynamic Data Access: Access nearly all the data from our models on the 3000+ stocks we cover. Screen for specific criteria. Download specific data points. For example, get the ROICs for all companies in the S&P 500 or the tech sector. A very powerful and strategic tool.
Custom Reports: We can deliver any data points - including custom calculations built to your specifications - from our models on 3000+ stocks, 400+ ETFs, and 7000+ mutual funds directly to you. Our top stock analysis software provides back-test samples or daily, weekly, or monthly reports.
Unlimited Portfolio Tracking: Create up to 10 portfolios with an unlimited number of stocks, ETFs, and mutual funds. Keep track of the tickers you are interested in and get email alerts letting you know when something changes.
Stock Screener: Scan for new ideas. Our best stock analysis tool is driven by a powerful search engine that lets you filter by sector, index, and rating. Refine your search for the best stocks by filtering on Return on Invested Capital (ROIC), Free Cash Flow Yield (FCF Yield), Price-to-Economic Book Value (PEBV), and Growth Appreciation Period (GAP).
ETF & Mutual Fund Screener: Find the best ETFs & mutual funds, with ratings backed by our stock research instead of past performance. Our top stock analysis software can filter by sector, style, or rating. Filter funds by assets, initial minimum, provider, or Total Annual Costs - New Construct's proprietary metric that makes the real cost of every ETF and mutual fund easily comparable in a single number.
Most Attractive & Most Dangerous Stocks Reports: The forty Most Attractive Stocks to buy each month in large-cap and small-cap range along with the forty Most Dangerous stocks to avoid, sell, or short sell. These reports are packed with new ideas and stocks to watch to each month.
Stock Pick of the Week: One new long idea to consider buying every week. Each weekly report within our top stock analysis software contains an up-to-date rating and comprehensive New Constructs investment research.
Access to All Our Research Reports: Having the best stock analysis tool means never waiting. Get immediate access to everything we publish, including special offers.
Schedule a demo with one of our experts. $3600/month per seat. Volume discounts apply. Custom packages available.