Our CEO, David Trainer, recently published a new paper, Distribution is Not Enough, on the rise in importance of proprietary data and analytics technologies for the modern investing market.
Co-authors of the paper Evan Schnidman, founder of EAS Innovation Consulting, and Jeremy Baksht, CoFounder and General Partner at DataFrame Ventures, are highly respected experts on data and analytics in the investing business.
One of the most important points of the paper is that the disproportionately higher number of potential data buyers compared to data sellers, especially for fundamental data, will create a land grab for data assets and technologies that can produce proprietary data assets.
After years of consolidation in search of ever greater scale, investment firms must now focus on differentiating their offerings. Mutual funds and ETFs are fully commoditized as evidenced by the collapse in fees and shift of AUM from active to passive.
To attract AUM in the modern investing market, firms will have to offer investors unique insights, possible only from proprietary data, advanced analytics, or some combination of the two.
Figure 1: Landscape for Data Buyers and Data Sellers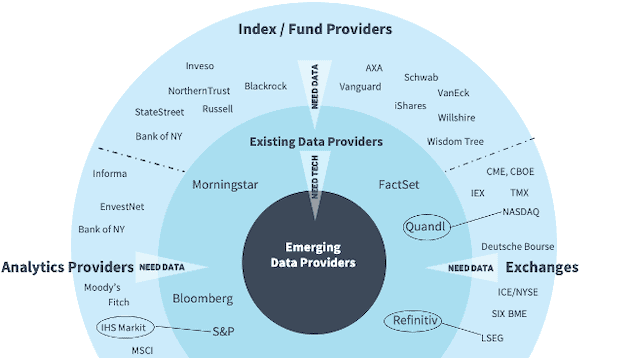 Sources: New Constructs, LLC.
This article originally published on March 11, 2021.
Disclosure: David Trainer, Kyle Guske II, and Matt Shuler receive no compensation to write about any specific stock, style, or theme.
Follow us on Twitter, Facebook, LinkedIn, and StockTwits for real-time alerts on all our research.