Investors look for ideas from many different places. Some go to websites like Seeking Alpha or The Motley Fool. Some people subscribe to regular newsletters (such as our monthly Most Attractive stocks report). However, investors can find ideas closer to home. A quick look around the kitchen reveals numerous products made by publicly-traded companies.
Figure 1 compares 10 companies that make common kitchen products on the basis of return on invested capital (ROIC) and price to economic book value (PEBV). ROIC is the best measure of a company's profitability, while PEBV most accurately captures the growth expectations embedded in a company's stock price.
Figure 1: Kitchen Stocks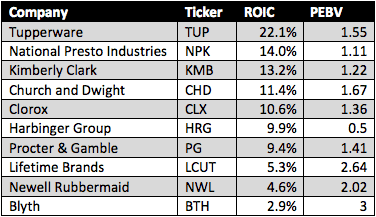 Sources: New Constructs, LLC and company filings
Tupperware (TUP) is the most profitable company on the list by far. Very few Consumer Discretionary companies can match its 22% ROIC. However, TUP's 1.55 PEBV also makes it significantly more expensive than some of the other companies on the list.
Harbinger Group (HRG) is the cheapest kitchen stock with a PEBV of 0.5, but its profitability falls in the bottom half of the group. Down at the bottom, we have companies that have low profits and high valuations. These are ones to stay away from.
One of them even lands in the Danger Zone this week. To access our latest Danger Zone report, click here. To get access to all our reports and services, click here.
Sam McBride contributed to this report.
Disclosure: David Trainer and Sam McBride receive no compensation to write about any specific stock, sector, or theme.
Feature Photo Credit: Williams Kitchen & Bath (Flickr)