In my recent article on Lorillard (LO), I emphasized the economic benefits to companies that sell addictive products. Ever hear of a "crack-berry"? I am an addict. Having access to email wherever I went was far more impactful to my business productivity than having a mobile phone. I still use my phone more for email than talking or anything else by a wide margin.
When I tried to switch to Apple's (AAPL: very attractive rating) iPhone, I took it back immediately with disgust at how poorly the email worked and the lack of integration with the calendar. Eventually, in search of better network coverage I decided to try a whiz-bang android phone. Again, I am, frankly, appalled with how poorly the email application works. And the whole contacts and calendar sync process through Google (GOOG: very attractive rating) is buggy as well and often requires me to reset my phone to original factory settings in order to work.
The point is that Research In Motion (RIMM) is extremely good at delivering the business applications that matter most to business consumers of mobile phone technology. Those applications are email, contacts, calendar and, of course, phone. Being able to surf the web, watch movies and play games is nice, but not necessary in a business phone. In addition, given the rapid proliferation of those nice-to-have features across multiple mobile computing platforms, I see them as more of a commodity while I have come to see the quality and stability of RIMM's business apps as more of a competitive differentiator.
Before you start booing, allow me to present the rest of my argument.
Figure 1: Depressed Stock Valuation Belies Impressive ROIC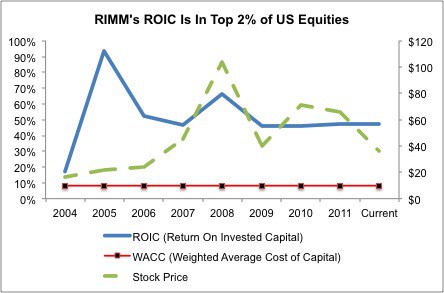 Sources: New Constructs, LLC and company filings
Yes, RIMM is losing market share and fast. Yes, RIMM's Blackberry Playbook tablet is a dud. Yes, the stock has been a stinker recently. And yes, none of what I wrote at the start of this article would matter if the stock were not super cheap.
And by super cheap, I mean the stock is priced as if the company will fade into irrelevance. Specifically, the current valuation of the stock (~$36) implies the company's after-tax cash flow (NOPAT) will permanently decline by 60%. In other words, RIMM's business will have to contract by a rather extraordinary amount to justify the currently-low valuation of the stock.
As is often the case in equity markets, stocks overshoot to the upside and to the downside. RIMM is an excellent example of a stock whose valuation had overshot to the upside when sentiment was positive. Now, it is an example of a stock that has overshot to the downside as sentiment has turned decidedly negative. You know the script: the more exuberant the positive sentiment, the more ruthless the negative sentiment.
The depressed valuation of RIMM gives investors a free option on RIMM making any sort of comeback. If RIMM is able to produce a product that combines its industry-leading business apps with the nice-to-have consumer-friendly apps, its valuation will rebound quite strongly.
In addition, the loyalty of its business consumer customer base, the industry-leading quality of its business apps and its impressive profitability make RIMM an attractive takeover target, especially when the stock is at such depressed levels.
Speaking of profitability, RIMM's return on invested capital (ROIC) for fiscal year 2011 was over 47%, which ranks in the top 2% of all 3000+ companies New Constructs covers. Research In Motion has one of the most profitable businesses in North America in one of the fastest-growing sectors of our economy: mobile computing.
As illustrated by the figure above, this high level of profitability not only makes RIMM an attractive acquisition target, but it also highlights the issue weighing on the stock: future profit growth prospects.
Assuming no future profit growth, RIMM's stock is worth over $85.
The risk/reward of this stock is compelling.
Though RIMM's profits are decelerating strongly and will likely decline, it is not likely that the company will incur a permanent 60% reduction in profits as implied by the market's current valuation of the stock. Accordingly, downside risk to the stock is low.
Upside reward potential is strong as the stock has to go over $85/share to trade at a value that implies the company's profits will experience a 0% decline, a no-growth scenario. If the company does anything better than a 60% decline in profits, the stock has upside.
RIMM, both profitable and cheap, earns a "very attractive" rating and is one of June's most attractive stocks.
I also recommend the following ETFs because of their "attractive" rating and exposure to RIMM.
First Trust NASDAQ-100-Tech Index (QTEC)
ProShares UltraPro QQQ (TQQQ)
ProShares Ultra QQQ (QLD)
PowerShares QQQ (QQQ)
For more details on RIMM's ROIC and its "very attractive" rating, see our free report on RIMM.
Disclosure: I have a position in LO, and may initiate a long position in RIMM and GOOG over the next 72 hours. I receive no compensation to write about any specific stock, sector or theme.
Note: Stock pick of the week is updated every Tuesday.