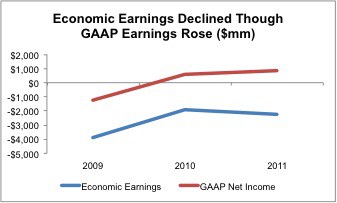 I recommend investors avoid Delta Airlines (DAL). I think the stock could see significant downward pressure as more investors realize how the company is propping up its earnings with relatively aggressive accounting for its pension and postretirement plan ("pensions"), which are already seriously underfunded.
After accounting for its underfunded retirement obligations, Eastman Kodak's net market value is about -$3.50 per share.
What I bet very few people, outside the company itself, know is that EK's pension liabilities could torpedo the company into bankruptcy and send the stock to significantly lower levels. In the company's recently published 10K, we found that EK's pension obligations are underfunded by $2.6 billion, about 3 times the company's market value.