When McDonalds (MCD) made my Most Attractive Stocks list this month, I must admit I let out a small cheer. This company is one of the better-run businesses in the world. I have long eyed the stock in hopes that it would get cheap enough to dig in to – and now it has.
I recommend investors buy the recent dip in MCD as this company is as strong as ever and very well positioned to take share in the event of a global slowdown.
To get a sense of the strength of MCD's competitive position, take a look at the company's return on invested capital (ROIC) in Figure 1. Since 1998, MCD's ROIC has never dipped below its cost of capital (WACC). In the last 10 years, the company's ROIC has more than doubled.
At 17% at the end of its latest fiscal year, MCD's ROIC is in the top quintile of all 3000 stocks I cover.
Figure 1: A Business Model With A Very Wide Moat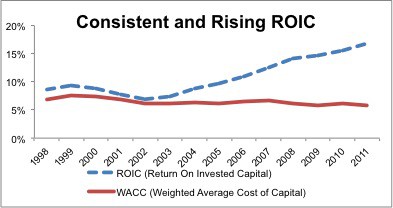 Sources: New Constructs, LLC and company filings
To those that point to recent declines in same store sales and the unrelenting competition from Wendy's (WEN) and Burger King (BKW) as reasons to sell, I recommend doing a little more diligence.
The bottom line is that MCD has a superior business model than Wendy's and Burger King. Wendy's ROIC is only 3.5%. I estimate BKW's ROIC, though I do not officially cover it, at just 7.8%.
Wendy's and Burger King can run all the promotions they want, but any share they take from MCD is only temporary because MCD has a lower cost advantage. MCD can easily, if it chooses, beat BKW and WEN on price, but why should it when profits are rising so strongly. Why not let WEN and BKW sell at or below cost and suffer lower margins?
Figure 2 highlights how WEN and BKW have had little to no effect on MCD's business. The same applies to all the other one-trick pony fast-food restaurants, like Starbucks (SBUX) or Panera Bread (PNRA).
None of these firms can match the breadth of MCD's offerings. Nor can any of these competitors match the speed with which MCD can develop and distribute new products. And, MCD rarely gets a product wrong. The company maintains impressive levels of quality in their entire product offering including the cleanliness of the store.
Figure 2: Don't Fix It If It Ain't Broke
Starbucks, the most popular comp for MCD, is not in the same league as MCD in terms of distribution, brand and efficiency. This fact manifests in the comparison of MCD's and SBUX's economic earnings as shown in Figure 3. MCD's earnings are more consistent, nearly 6 times greater and growing faster.  MCD is like the Wal-Mart of fast food, while SBUX is more like a smaller specialty retailer, except in this case the bigger firm's profits are growing much faster.
As I stated in Get Off the Starbucks Wagon before It Crashes, SBUX cannot compete with the global brand and distribution capabilities of McDonalds. And the more successful Starbucks is, the more it competes with MCD. As a result, there is limited upside in SBUX growth – not the other way around.
Figure 3: MCD's Earnings Are Big League Compared To Little League SBUX

The recent dip in MCD's stock price presents investors with a terrific opportunity to out-smart the crowd of momentum investors looking to sell off any stock whose outlook or performance comes in below expectations. Momentum investors focus almost entirely on headlines. True investors exercise diligence and look for the truth behind the headlines. See more on how diligence pays.
Case in point: Figure 1 and Figure 2 show that MCD's business and profits are stronger than ever while Figure 4 shows MCD may never have been cheaper anytime in the last 15 years. At $85/share, MCD is trading at a 18% discount to its economic book value. In other words, the current valuation of the stock implies the company's profits will permanently decline by 18% and never rise from that depressed level.
Those are low expectations for a company that has grown NOPAT at 11% compounded annually over the past decade.
Figure 4: Now Is An Excellent Buying Opportunity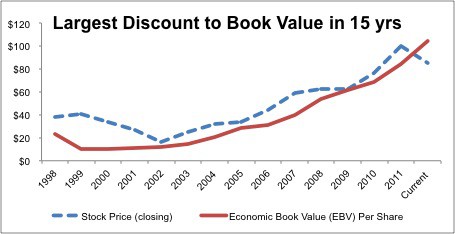 Sources: New Constructs, LLC and company filings
It is time to load up the proverbial truck with MCD stock.
Management's excellent track record of profit growth and rising ROICs makes this stock one of the smartest and safest stocks in the market at its current valuation.
My rating on MCD is Very Attractive or 5 stars.
My regular readers know that I also cover 400+ ETFs and 7000+ mutual funds, and I like to point out the ETFs and mutual funds that allocate most to the stocks I recommend to buy or sell.
For MCD, there is only one ETF and zero mutual funds that allocate significantly to MCD and get an Attractive or better rating: Dow Jones Industrial Average ETF (DIA).
Disclosure: I do not currently own MCD but may purchase within the next 72 hours. I receive no compensation to write about any specific stock or theme.