"In this world nothing can be said to be certain, except death and taxes." –Benjamin Franklin
Our latest long idea comes to you from a business with consistent demand. Investors love certainty, so investing in the only two certain businesses (at least according to Franklin) makes a certain amount of sense. Tax return preparers and funeral service providers both enjoy a consistency of demand that other industries would envy.
However, it's not enough that an investment be in a business with consistent demand. The company has to be profitable and the stock cheap as well. Figure 1 compares three of the largest tax preparers against three of the largest funeral service providers on the basis of return on invested capital (ROIC) and after-tax profit (NOPAT) growth in the last fiscal year.
Figure 1: Profitability of Death and Taxes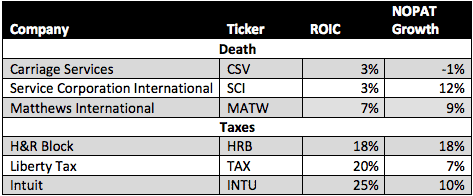 Sources:   New Constructs, LLC and company filings
Turns out that it's no contest. Taxes are far more profitable a business to be in. Our three top tax preparers averaged a 21% ROIC and 12% NOPAT growth last year while the top three funeral providers only achieved a 4% ROIC and 7% NOPAT growth.
Of course, it's not totally fair to lump all these companies together, as they all pursue different strategies and different segments of their industries. Matthews International (MATW) focuses on the manufacture of bronze and granite memorials while both Carriage Services (CSV) and Service Corporation International (SCI) operate funeral homes and cemeteries.
On the tax side, Intuit's (INTU) TurboTax software is the largest online tax preparation tool, but accounts for only 36% of the company's total revenue. H&R Block (HRB) and Liberty Tax (TAX) both operate physical offices, but their strategies are still different. HRB owns a significant portion of its offices and is the most recognized brand in the industry. TAX heavily utilizes a franchise strategy and uses significantly lower prices to attract customers.
All three tax preparers offer a level of profitability and growth that should interest investors, but only one of them earns our Very Attractive rating. Find out which one is our latest Long Idea here. To get access to all our reports and services, click here.
Sam McBride contributed to this report.
Disclosure: David Trainer and Sam McBride receive no compensation to write about any specific stock, sector or theme.
Feature Photo Credit: hey tiffany (flickr)