Recap from December Picks
Our Most Attractive Stocks (-1.2%) outperformed the S&P 500 (-2.2%) last month. Most Attractive Small Cap stock EMC Insurance Group (EMCI) gained 14% and Most Attractive Large Cap stock Elbit Systems (ESLT) was up 9%. 22 out of the 40 Most Attractive stocks outperformed the S&P 500.
On to January's Picks
Our Most Attractive stocks for January were made available on January 7. Our Most Attractive stocks have high and rising returns on invested capital (ROIC) and low price to economic book value ratios.
Most Attractive Stock Feature for January: Garmin, Ltd (GRMN)
Garmin, LTD (GRMN), maker of personal GPS enabled products, is one of the additions to our Most Attractive stocks for January. Garmin has long been known as a provider of automobile mapping solutions, but has recently been transforming itself to better meet the needs of today's technological landscape. Garmin's stock price was up around 10% in 2014, but this year could be the beginning of a new phase for Garmin, one in which it becomes the growth stock it once was.
Not the GPS Company of Yesterday
Buying Garmin is betting on the continued turnaround of the company. An effective transition from automobile products to providing fitness trackers, smart watches, and other portable GPS products is paramount. 2014 will be the first year since 2011 that Garmin will have achieved revenue growth, and this can be attributed to the company's ongoing shift from automobile to the new segments mentioned above.
In 3Q14, Garmin announced overall revenue growth of 10% over the previous year. This growth is highlighted by 19% sales growth in the company's Outdoor segment, 43% in its Fitness segment, and 12% in its Marine segment.. This growth is promising for Garmin going forward as it relies less on its automotive segment to provide majority of its revenues. Automotive sales still accounted for 44% of sales in 3Q14, down from 50% the year before. Figure 1 highlights how Garmin's other product categories have grown since 2010.
Figure 1: Garmin's New Focus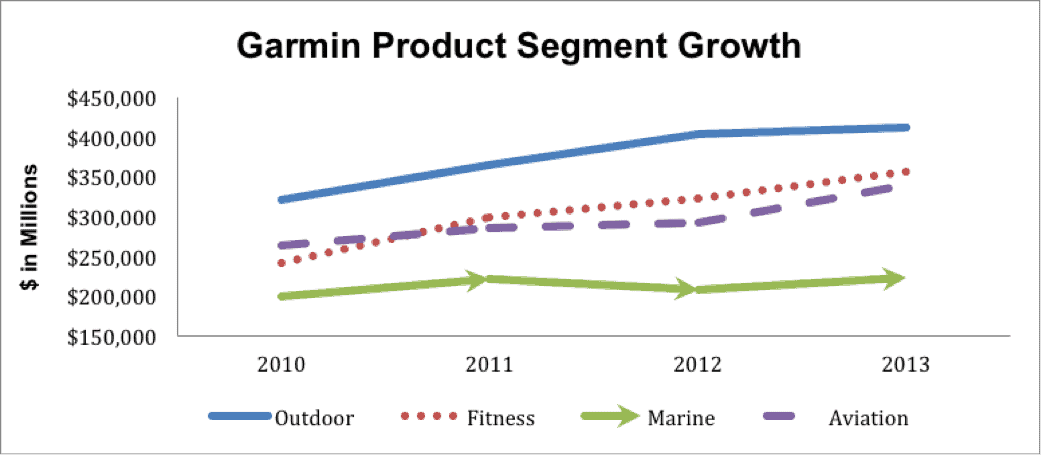 Source: New Constructs, LLC and company filings
Once Garmin reports full year earnings, we expect to see the four segments from Figure 1 reporting impressive year over year growth. In fact, the fitness segment's sales through 3Q14 already eclipse its full-year sales in 2013..A focus on these segments going forward looks promising for Garmin as it is showing the ability to generate excellent revenue growth outside of its original automotive market.
Rock Solid Financials
Despite many analysts leaving Garmin for dead, the company maintained an impressive balance sheet through its no-growth years. Garmin had no long or short-term debt, only $62 million in off balance sheet debt, and nearly $300 million in free cash flow at the end of 2013.
On a trailing 12 month-basis, Garmin currently has over $600 million in free cash flow and after-tax profit (NOPAT) is up 19% from last year. Management will have to continue growing the new product segments and find ways to minimize losses in the automotive segment. However, 2014 has only given indications that Garmin has made great strides in positioning itself for the future.
At its current price of ~$51/share, Garmin has a price to economic book value (PEBV) ratio of 1.1. This ratio implies the market expects Garmin to never grow NOPAT by more than 10% from the current level. Prior to 2014, this may have seemed reasonable. However results so far this fiscal year make these expectations seem pessimistic.
At its peak, 2001-2007, Garmin grew NOPAT by 43% compounded annually. If Garmin can grow NOPAT by only 9% compounded annually for the next 8 years, the stock is worth $70/share today –– a 40% upside. If Garmin can reach growth levels of even half of its peak years, the stock is worth even more. A successful turnaround could be extremely profitable for your portfolio.
Kyle Guske II contributed to this report.
Disclosure: David Trainer and Kyle Guske II receive no compensation to write about any specific stock, sector, or theme.