Recap from February's Picks
Our Most Dangerous Stocks (+1.9%) rose less than the S&P 500 (+2.0 %) last month and outperformed as a short portfolio.
Most Dangerous Large Cap stock Janus Capital (JNS), fell by 9% and Most Dangerous Small Cap stock Mistras Group (MG) fell 11%. Overall, 19 out of the 40 Most Dangerous stocks for February outperformed as shorts.
On to March's Picks
Our Most Dangerous stocks for March were made available on March 4. Most Dangerous stocks have misleading earnings and long growth appreciation periods implied in their market valuations.
Most Dangerous Stock Feature for March: PVH Corp.
PVH Corp. (PVH) is one of the new Most Dangerous stocks for March. PVH makes and markets clothing under the Tommy Hilfiger, Calvin Klein, Van Heusen, Arrow and IZOD brands, with licenses to produce products for a list of other brands. PVH has declined 19% so far in 2015, but we think that the stock has much further to fall.
A few months ago we put another clothing company, Oxford Industries (OXM), in the Danger Zone due to its aggressive and ineffective acquisition strategy. Since then, the stock has fallen 6%, and we're seeing many of the same warning signs in PVH Corp.
PVH has undertaken a few large acquisitions in recent years: Tommy Hilfiger in 2010 and The Warnaco Group in 2013, the last of which controlled the Speedo and Chaps brands and some Calvin Klein rights.
How have all of these acquisitions stacked up for PVH? On a trailing 12-month basis, PVH's return on invested capital (ROIC) has fallen to under 6%, its lowest level since 2004. Figure 1 tracks PVH's profitability over time.
Figure 1: Tracking NOPAT and ROIC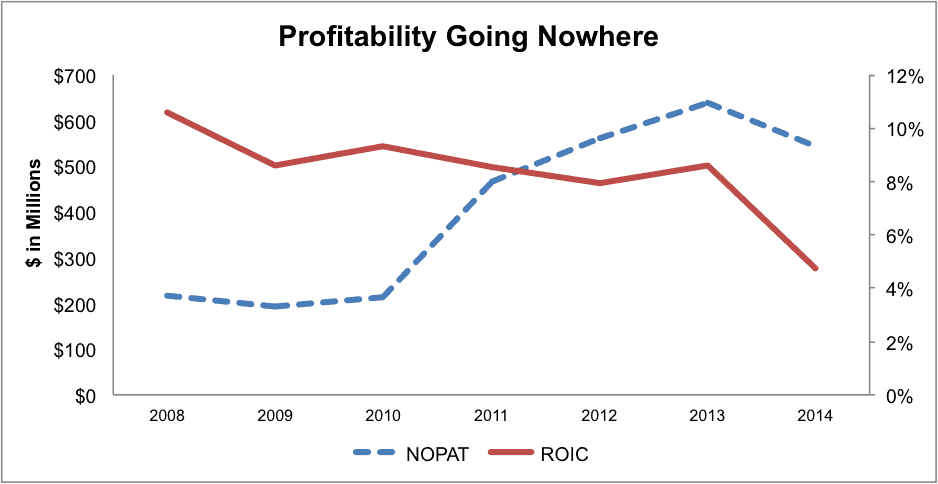 Source: New Constructs, LLC and company filings
On top of this steady decline in ROIC since the Tommy Hilfiger acquisition, PVH has been piling on debt. As of its most recent filing, PVH has over $5.7 billion in total debt, or a whopping 69% of the company's market value. In addition, PVH has over $826 million in deferred tax liabilities that it owes.
Sales Growth Can't Grow Profits
As PVH has acquired these new companies, it has shifted its focus to center around its new brands. As seen above, this has not paid off so far, and actually hurt the company's fundamentals. PVH's 2014 net operating profit after tax (NOPAT) of $543 million was 15% below 2013's profits. SG&A costs increased 42%, which caused margins to plummet. Net operating pre-tax margin was 10% in 2014, down from 14% only three years earlier. Regardless of the impressive revenue growth achieved by PVH, spending increases proved too large to overcome and have proven to be a drag on profits.
More recently however, PVH's sales growth has not been as robust. In fact, its sales fell on a pro forma basis in the most recent quarter, from $2.2 to $2.1 billion. If PVH can't grow profits while growing revenues, falling revenues will certainly compound this profit growth problem.
These Issues Add to PVH's Uncertainty
A few recent news items reinforce this call. First is the fact that research firm NPD Group reports that an "underlying sense of rebellion" driven by millennials is a major factor in the clothing and fashion sector. Catering to the needs of this demographic will be paramount to success or failure in the fashion/apparel industry, and PVH's portfolio of older brands and dress clothing manufacturers does not bode well for PVH's success in the face of this report/
Finally, currency strength will almost certainly harm PVH's international business. With around 46% of sales coming internationally, currency concerns must be weighing heavily on management's minds. As the dollar continues to strengthen, declining sales abroad due to weaker currencies may offset growth in the United States.
Why PVH's Valuation is Unwarranted
After taking all the above into account, PVH is still overvalued. This still applies even after a 19% decline in stock price so far this year. To justify its current price of ~$104/share, PVH must grow NOPAT by 11% compounded annually for the next 18 years. As sales have declined lately on top of declining NOPAT, such growth expectations seem highly unlikely. After all of this, it's easy to see why PVH makes our Most Dangerous stocks list this month.
Disclosure: David Trainer, Kyle Guske II and André Rouillard receive no compensation to write about any specific stock, sector, or theme.
Click here to download a PDF of this report.