Amazon (AMZN: $311/share) posted a surprise on Twitter (TWTR) yesterday inviting its followers to join founder Jeff Bezos in Seattle for a product launch on June 18. The product, hinted at in the tweet's image, is black, sleek, and looks very much like a smartphone with the Amazon logo emblazoned in silver on the device's back panel. Accompanying the tweet is a YouTube video, which shows numerous people holding the object in their hands, "ooh"-ing and "ahh"-ing while they tilt their heads and move the device around. A few sloppy uncropped frames show that the device is distinctly phone-sized:
Figure 1: Sneak Peek At Amazon's New Phone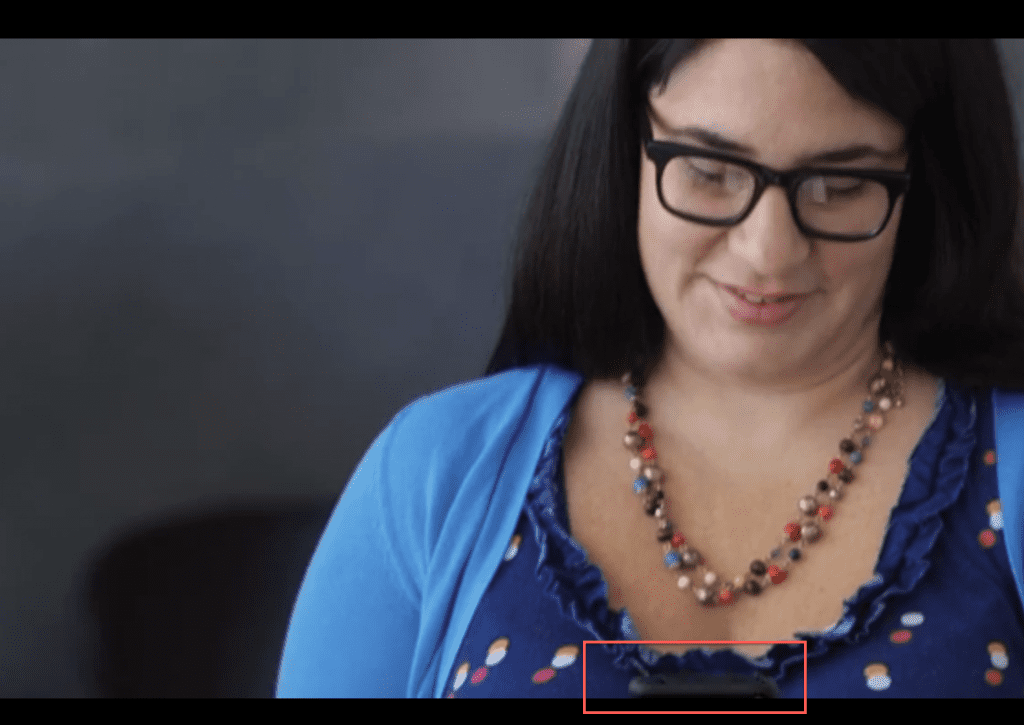 Sources:   https://www.youtube.com/watch?v=erUZQ9GK0sE
If Amazon does release its long-rumored smartphone in two weeks, the device will be one more market in which the online retailer goes head-to-head with Apple (AAPL: $650/share). The two consumer electronics companies already compete in the tablet market with the Kindle and the iPad, the streaming video and television market with the Amazon Fire TV and Apple TV, and the digital book and music retail markets.
If Amazon's Kindle Fire tablet is any indication of the level of quality of its purported smartphone, Amazon will be eating Apple's lunch, further eroding the already declining market share of Apple's iPhone. The popular Kindle e-reader can also provide a look at the likely strategy Amazon will take with its smartphone — one that involves razor-thin profit margins (or losses) on its high-quality hardware, and high cash flows from sales of music, video, books, and products from Amazon's retail segment through the devices (Amazon's low-margin business is a separate issue, not good for investors in either AMZN or its competitors).
A high quality smartphone from Amazon that undercuts higher-priced competitors could mean more serious trouble for Apple's iPhone, the company's most profitable piece of hardware.
Amazon's smartphone does not necessarily need to be the new market leader. The company's foray into the smartphone space shows that any technology company with a brand name and enough cash on hand can design and produce their own smartphone that will eat into the market share of existing competition.
More than this though, Amazon's product preview video reinforces our core assertion Apple is indeed losing its mojo when it comes to innovation. The behavior of the individuals in the video — along with much online speculation — indicates that the phone will have a new kind of display technology, possibly glasses-free 3-D viewing. Apple's competition is now releasing phones with bigger screens, heart monitors and 3-D displays that compete with (and beat) the iPhone among critics and consumers. Apple is no longer the market leader in quality and innovation it once was.
Figure 2: Competition Forces Decline in Profitability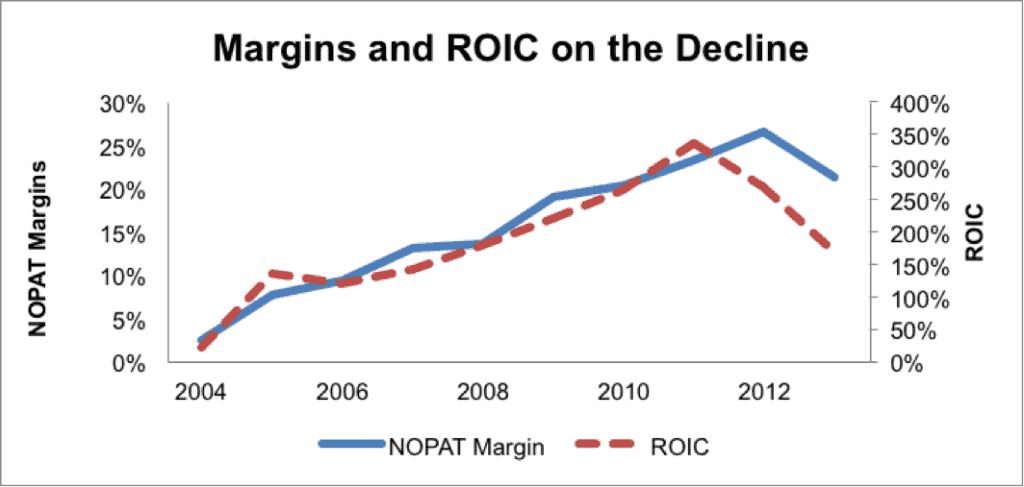 Sources:   New Constructs, LLC and company filings
Apple's return on invested capital (ROIC) has fallen accordingly. As seen in Figure 2, the company's ROIC peaked at 337% in 2011, but has since halved, falling to under 169% in 2013. This decline is in line with my original thesis from over a year ago that Apple's sky-high return on capital was unsustainable due to the firm's declining levels of innovation and the industry's increasingly fierce competition. Since that time, Apple's profit (NOPAT) margins have also fallen from 27% to 21%.
Investors should keep a close eye on the company's ROIC and profit margins. These figures will continue to fall as competition in Apple's core product spaces increases, and as the company attempts to enter already crowded spaces like streaming music radio.
If Amazon's phone is as well received as the rest of its hardware offerings — and we expect that it will be — then investors can anticipate continued downward pressure on AAPL's share price.
André Rouillard contributed to this article.
Disclosure: David Trainer and André Rouillard receive no compensation to write about any specific stock, sector or theme.
Photo credit: paz.ca (Flickr)