After featuring the success of our Zombie Stocks List in his June 2022 article, Fortune's Will Daniel revisited our Carvana (CVNA: $5/share) call in this tweet from November 4, 2022:
"Watching Carvana today…and thinking about New Constructs' David Trainer.
He did warn you. Since publication of this article in late June, CVNA is down more than 70%."
Carvana has fallen even further since then. In fact, since our original Danger Zone report in April 2019, Carvana's stock is down 92% and has outperformed the S&P 500 as a short by 125%. See Figure 1. See all our research on Carvana here.
Since we named Carvana a Zombie Stock in June 2022, the stock is down 83% and has outperformed the S&P 500 as a short by 85%. See the complete list of all the Zombie Stocks here.
Figure 1: Danger Zone Performance: From Date of Publication Through 12/15/22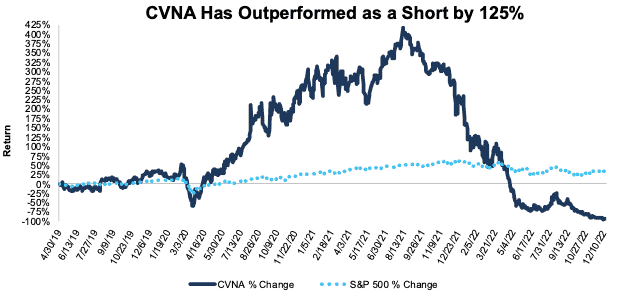 Sources: New Constructs, LLC
We're here to help you navigate these turbulent times. Our uniquely rigorous fundamental research consistently earns SumZero's #1 All-Time ranking, along with #1 rankings in several other categories. See other stock picking accolades.
This article was originally published on December 16, 2022.
Disclosure: David Trainer, Kyle Guske II, Matt Shuler, and Italo Mendonça receive no compensation to write about any specific stock, sector, style, or theme.
Follow us on Twitter, Facebook, LinkedIn, and StockTwits for real-time alerts on all our research.