We're excited to announce that we've integrated earnings data disclosed in press releases via 8-Ks filed with the SEC into our Stock Ratings, Credit Ratings, and Company Valuation Models. Press releases can provide an earlier, albeit abridged, look at the latest financials of companies.
More often than not, press releases' financial disclosures are incomplete, especially when compared to 10-Ks and 10-Qs. Accordingly, we suspend both the Stock Rating and Credit Rating for companies when the most recent data comes from a press release. We clearly display whenever we have Suspended a Rating. We are also clear about the cause of the suspension as you can see in Figure 1 below.
As soon as the next 10-Q or 10-K is filed and incorporated into our model, we will lift the suspensions due to Press Releases.
Figure 1: Press Release Data and Subsequent Suspended Ratings

Sources: New Constructs, LLC and company filings
How to Access Press Release Data
Press release data will be available for a limited number of companies, starting with Bank of America (BAC) and US Bank (USB) in January 2022. Additional companies are being added in the future.
All members can access this data in the same way they access our existing research, whether through the Portfolios page, Ratings page, or Company Reports, as it will be integrated into the TTM data points.
We will mark analytics reliant upon a press release with a special column header "Press Release*". Additionally, the column will be highlighted in gray.
Figure 2: Press Release Sourced Data & Analysis on the GAAP Reconciliation Tab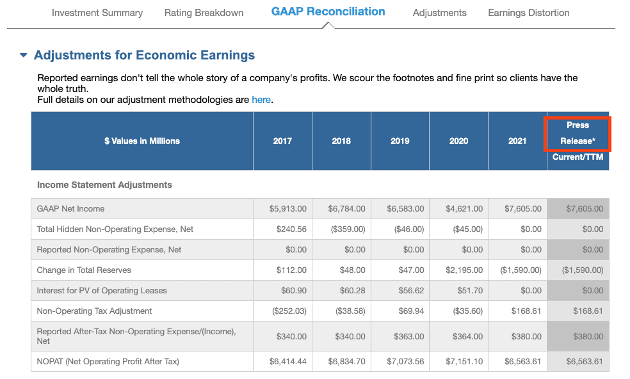 Sources: New Constructs, LLC and company filings
Institutional members can also view press release data in our Company Models for a limited number of companies.
Figure 3: Press Release Data in our Company Models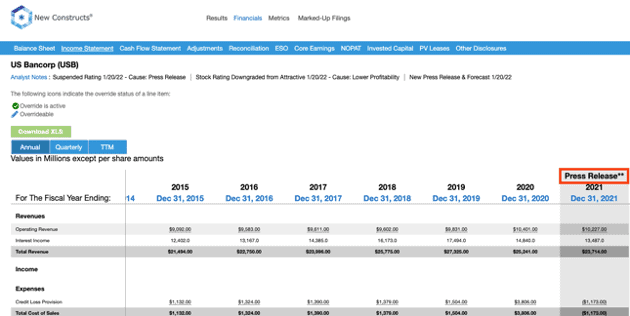 Sources: New Constructs, LLC and company filings
Please contact us at support@newconstructs.com if you have any questions.
This article originally published on February 1, 2022.
Disclosure: David Trainer, Kyle Guske II, and Matt Shuler receive no compensation to write about any specific stock, style, or theme.
Follow us on Twitter, Facebook, LinkedIn, and StockTwits for real-time alerts on all our research.