PetSmart (PETM: $70/share) has been in the news this week after activist hedge fund Jana Partners took a big stake in the company and advocated potential changes, including a possible private equity takeover or a return of capital to shareholders. Of those two options, a private takeover would by far be the better choice for PetSmart.
PetSmart is currently doing a good job of creating economic value, but the pressures of the quarterly earnings game and the need to return cash to shareholders has kept the company from making the best long-term decisions.
Increasing Short-Term Costs Could Help Long-Term Growth
PetSmart's management is good at playing the quarterly earnings game, as evidenced by the company's several straight quarters of beating earnings estimates. The downside of these earnings beats is that they often involve the company keeping short-term costs low, even if increasing those costs would benefit shareholders in the long-term.
In particular, PetSmart has kept its advertising costs significantly lower than many specialty retailers its size. In the past three years, PetSmart has spent an average of 1.8% of revenue on advertising, whereas other specialty retail companies such as Dick's (DKS), Signet (SIG), and Office Depot (ODP) spend an average of ~4% on advertising.
Dick's in particular makes for a good comparison to PetSmart, as both companies are roughly the same size and operate in similarly specialized segments that have managed to resist the onslaught of online shopping better than most retailers. Dick's spent 3.5% of revenue on advertising over the past three years, nearly double PetSmart's budget. Over those three years, Dick's grew revenue by 8.4% compounded annually while PetSmart's growth lagged behind at 6.7%.
Increasing the advertising budget is not a sure-fire method for growing sales, but it sure looks as though PetSmart's management may have been sacrificing long-term growth in order to meet short-term earnings goals.
Invested Capital Base Needs to Expand
In my last article, I praised PetSmart for improving its capital efficiency. PetSmart has a top-quintile return on invested capital (ROIC) of 15%, and its invested capital turns increased 36% from 2008 to 2014. The increasing efficiency of PetSmart's capital is one of the big reasons I like the stock.
However, PetSmart has not been taking advantage of its improving capital efficiency by investing more into the business. PetSmart's ROIC is more than double its weighted average cost of capital (WACC), but the company has actually been reducing its capital base rather than take advantage of value creating opportunities.
Figure 1: ROIC vs. Invested Capital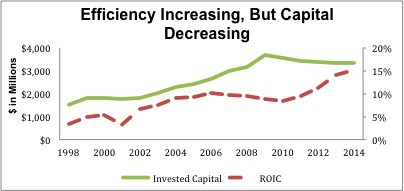 Sources:   New Constructs, LLC and company filings
There are numerous facets of its business PetSmart could invest in. The positive incremental returns on capital suggest that the company could create value by expanding its store count at a faster rate than the current 4% a year.
Based on the company's projections for flat same-store sales next year, renewed investment in its existing stores also looks to be necessary. This could involve expansion of store square footage or adding its "PetsHotel" boarding service to more of its stores in order to drive traffic and increase customer loyalty.
Finally, PetSmart absolutely needs to increase its investment in e-commerce. PetSmart's in-store services mean that it's not in danger of going the way of Radio Shack (RSH) or other brick and mortar retailers, but it still can't afford to miss out on the rapidly growing e-commerce market. Online sales were still immaterial to overall results in the most recent quarter, so PetSmart definitely has a long way to go on that front.
Moreover, PetSmart definitely has the money to fund these investments. Its free cash flow last year was $500 million. However, PetSmart spent that $500 million on dividend payments and stock buybacks. When a company has as many potential value-creating opportunities such as PetSmart does, it doesn't make sense to spurn those opportunities and give all the money back to shareholders into perpetuity.
Return of Capital is Not the Answer
In addition to talks of a sale, hedge fund Jana Partners has discussed the possibility of a "significant return of capital to shareholders". If you can't tell from the section above, I'm against this plan. PetSmart needs long-term investment in its future, not a short-term bump in its stock price.
In the super-low-interest-rate environment of the past several years, the market's view of dividends has become distorted. People tend to view dividends as a positive, but in reality they're an admission of failure on the company's part. When a company pays out a dividend, it's saying that it doesn't have any value creating ways to deploy that capital, so it's just going to hand the money back to investors. I'd much rather invest in a company that pays no dividend and constantly deploys capital into high-returning investments in its business.
As a private company, PetSmart would not have to worry about buying back stock or paying dividends, so hopefully it could make more long-term investments in its business and spend more on advertising and other discretionary costs now in order to drive greater profitability in its future.
PetSmart should be able to do this as a public company as well, but its management seems to be overly focused on appeasing shareholders in the short-term. A privately held PetSmart could create more value than the present version of the company.
I wrote in my last article that $88/share was a fair value for PETM based on reasonable expectations of future cash flow growth. If a private takeover does materialize, I think investors should demand that any potential buyer at least meet that valuation. The 25% premium to the current valuation is similar to the premiums that other big acquisitions have commanded this year.
Sam McBride contributed to this report.
Disclosure: David Trainer owns PETM. David Trainer and Sam McBride receive no compensation to write about any specific stock, sector or theme.
Photo Credit: Mike Mozart (Flickr)