Update: Apple's 1Q14 earnings report gives further support to my thesis. iPhone sales came in at 51 million for the quarter, well below analyst expectations of 57 million. The company also guided to lower gross margins in the next quarter. See my full reaction to the report here. My original video on Reuters Insider can be seen here.
Last week, The New York Times posted a story relating Apple's (AAPL) lackluster growth in the Chinese mobile phone market. In China, Apple is playing second fiddle to Samsung as consumers are demanding phones with larger screens at cheaper prices – the new iPhone 5s runs about $875 dollars in the country, while the Samsung Galaxy S4 is $775 and the older model Samsung Galaxy Star Pro is available for just over $100.
Even with the introduction of the entry-level iPhone 5c, recent reports have Apple's Chinese mobile market share ranging anywhere between just 8-12%, while Samsung has a 21% market share and Android phones have a 79% market share.
This news corroborates our core assertion that Apple cannot have pricing power and market share at the same time. No one can for an extended period of time. The problem with AAPL is that it is priced for the company to achieve market share penetration and growth at high prices. The reality is that the quality of Apple products versus competitors is declining. Prices will have to come down just to maintain market share.
The competition is catching up in terms of the technology in their phones, but they're also catching up to Apple in terms of the overall user experience. For the last three years, Forrester Research has done customer-experience surveys of the consumer electronics sector. This year, for the first time, Sony (SNE), Microsoft (MSFT), and Samsung all finished narrowly ahead of Apple.
Apple did not do poorly in the survey. In fact, it improved its score from 79 last year to 81 this year, well in the range that Forrester considers "good". However, its three competitors all made bigger improvements from this year to last. Meanwhile, Amazon (AMZN), whose Kindle competes with the iPad, came in way ahead of the pack with an excellent score of 91.
Figure 1: Competitors Surpass Apple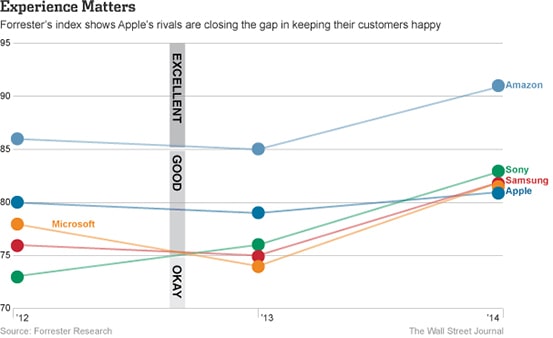 Sources: http://blogs.wsj.com/digits/2014/01/20/its-debate-time-which-brand-makes-customers-happier/
Apple's struggles in China and the recent Forrester Survey reaffirm my belief that the company's competitive advantage is declining. Past innovations, both in their products and the way those products are sold, no longer make Apple clearly superior to the competition. The stock, which currently trades at ~$540, is priced for the company's past successes, when Apple could preserve market share even with huge margins. AAPL's valuation is only fair if investors assume that the company can sustain a return on invested capital (ROIC) of 130% into perpetuity.
Figure 2: Profitability in Decline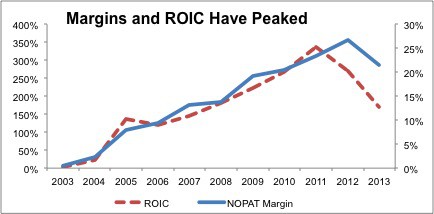 Sources: New Constructs, LLC and company filings
Over the past two years, Apple's ROIC has been cut in half, from 340% to 170%. In 2013 its after-tax profit (NOPAT) margin declined from 27% to 21%. If Apple's ROIC were to fall to 70%, around the level of Microsoft (MSFT), a fair share price would be $347. If it falls to 35%, around the level of Google (GOOG), the stock is worth ~$240/share. With Apple's era of explosive growth long behind it, and a bevy of competitive alternatives for consumers to choose from, investors can expect a more down-to-earth return on capital and downward pressure on its share price.
André Rouillard and Sam McBride contributed to this report.
Disclosure: David Trainer, Sam McBride, and André Rouillard receive no compensation to write about any specific stock, sector, or theme.
Photo credit: Karlis Dambrans