Click here to download a PDF of this report.Almost every investor knows the Herbalife (HLF) story by this point. Star hedge fund manager Bill Ackman took a short position last December. He very publicly called the company a pyramid scheme and gave it a price target of $0. Longtime rival Carl Icahn got in on the long side soon after, and the two have traded barbs back and forth since. George Soros has also reportedly taken a large long position in the stock recently.
In the past five years, the SEC has twice looked into Herbalife's operations and twice it has concluded its investigations without any action.
With stock up over 100% year-to-date, no findings of wrongdoing from regulators, and the seal of approval from two highly sophisticated investors, Ackman's short thesis is looking pretty weak.
This article will not try to argue the legality of HLF's business model. I think it is a moot point. My fund has owned the stock since its big drop in May 2012.
The focus of this article is on the value that Herbalife has and will create for shareholders.
Herbalife is a very profitable company with significant long-term competitive advantages that not only position the company to continue to create shareholder value but also to be very attractive as a potential acquisition target for large health insurers.
Analyzing the Key Metrics For Shareholder Value Creation
Regular readers know that my favorite measure of profitability is return on invested capital (ROIC). Calculated by taking net operating profit after tax (NOPAT) and dividing it by average invested capital, ROIC measures the efficiency of a company in utilizing its assets to create value for shareholders.
HLF's multi-level marketing strategy allows it to have less invested capital and earn a higher ROIC than its competitors in the diet and nutrition industry with more traditional marketing and selling strategies. For example, in 2012, HLF earned an ROIC of 49% compared to Nutraceutial International (NUTR) with an ROIC of 8% and NutriSystem Inc. (NTRI) with an ROIC of only 5%.
While both NUTR and NTRI have had their brief spells of success, Figure 1 shows that HLF has done better than both at steadily increasing its ROIC.
Figure 1: ROIC of Herbalife and Competitors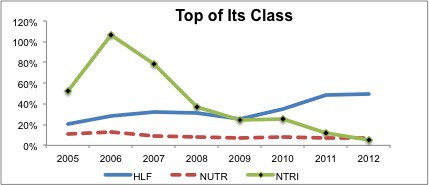 Sources: New Constructs, LLC and company filings
Over the past eight years, HLF has grown NOPAT by an impressive 27% compounded annually. GAAP net income for the last fiscal year actually significantly understates HLF's true profitability. An unusual $16.7 million loss due largely to the devaluation of Venezuela's currency, along with a few other hidden items, decreased reported earnings to $477 million while HLF's NOPAT was actually $508 million.
The Power Of Healthy Relationships
In addition to requiring less invested capital, HLF's business model leverages the benefits of the innate human desire to be part of a community. And in the case of Herbalife, it is a healthy community, which means it can last.
In a world where many traditional community structures are in decline or have vanished, Herbalife sells more than just a product. The company marries its product offering with the opportunity to be part of a community of like-minded individuals endeavoring to achieve similar goals. Desire to be part of community is a powerful human impulse, and HLF offers that to consumers while simultaneously promoting a healthy lifestyle.
The result is a win-win for Herbalife clients. They get a good product and membership in a community that espouses healthy living. And from all indications, people appear to be buying into the community HLF provides. If the growth in sales is not convincing enough, just look at the reviews from consumers and employees online. For every one complaining that HLF is a scam, there are dozens of reviews praising the company's products and its corporate culture. This evidence suggests that Herbalife's value proposition is increasingly attractive to people.
How many other companies with HLF's scale have managed to create a community around healthy living? The only other one I can think of is Weight Watchers (WTW). I've highlighted WTW before and have been especially intrigued by the potential for acquisition by a major insurance provider. How many insurance companies would jump at the chance to build a stronger relationship with their customers while also promoting healthier lifestyles? Despite major efforts, none of the major insurers have had any success building any sort of positive community with their subscribers. In fact, the venture capital world is full of start-ups looking to help insurers engage with subscribers and help them live healthier life styles, and, therefore, lower insurers costs. Maybe the problem is that the insurers are too focused on cutting costs and not focused enough on improving peoples' lifestyles. Either way, WTW and HLF could offer insurers a compelling off-the-shelf solution to connecting with customers and offering a variety of products and services that support a healthy lifestyle.
The Value Of Healthy Relationships
HLF's network of distributors can grow sales organically through relationships and word of mouth rather than depending on advertising to target new customers. In 2012, HLF grew revenue by 18% while spending only 1% of revenue on advertising. In 2011, the average company selling food and kindred products spent 11% of sales on advertising.
HLF's ability to grow its product sales without significant ad spending touches on the core competitive advantage of the company. HLF offers clients a sense of community and a healthy lifestyle that perpetuates the growth and value of the community.
Attractive Valuation
Despite HLF's 77% run-up this year, the stock is still fairly cheap. At its current valuation of ~$67/share, HLF has a price to economic book value ratio (price-to-EBV) of 1.2 That ratio means that the market expects only 20% growth in NOPAT for the remainder of HLF's existence. Given the company's impressive growth rate over the past few years, such a pessimistic expectation seems unwarranted. Throughout its history, HLF has typically traded at a price-to-EBV of closer to 1.5. The large short interest and lingering concerns over the possibility of regulatory action have succeeded in keeping HLF's stock cheap.
Given the recent strong earnings report and great stock momentum, it appears that the downward pressure of over 30 million shares short could quickly turn into a short squeeze and drive the stock up.
HLF offers consistent growth in profits and revenue at a significant discount. In addition, it's a potential acquisition target by deep-pocketed insurers. Unless you believe the SEC (or FTC) will reverse its position and take concrete action against HLF, there is very little downside risk to this stock.
While a few ETFs and mutual funds allocate a significant portion of their assets to HLF, none of them earn an Attractive-or-better rating. Investors would be better served buying the stock directly than trying to get exposure to it through an ETF or mutual fund.
Sam McBride contributed to this article.
Disclosure: David Trainer is long HLF. David Trainer and Sam McBride receive no compensation to write about any specific stock, sector, or theme.
Photo credit: Herbalife (Flickr)