The real earnings season is nearly over. For the past month and a half, our analysts have diligently gone through over 3,000 annual reports, Form 10-K's, to make adjustments from GAAP numbers to economic earnings. This report features an interesting non-operating item we've discovered in numerous filings.
Reported earnings don't tell the whole story of a company's profits. They are based on accounting rules designed for debt investors, not equity investors, and are manipulated by companies to manage earnings. Only economic earnings provide a complete and unadulterated measure of profitability.
Converting GAAP data into economic earnings should be part of every investor's diligence process. Performing detailed analysis of footnotes and the MD&A is part of fulfilling fiduciary responsibilities.
We perform unrivalled due diligence on over 3,000 10-Ks every year.
Foreign currency exchange losses are unusual charges that often don't appear directly on the income statement because they are bundled in other line items. Without careful footnotes research, investors would never know that these currency devaluation charges distort GAAP numbers by lowering operating earnings. In 2013, the devaluation of the Venezuelan Bolivar had a negative impact on a large number of companies.
The Bolivar Fuerte was adopted as the national currency of Venezuela in 2008. Companies operating in Venezuela must obtain government approval to exchange Bolivars to US Dollars at the official exchange rate. Effective January 1, 2011, the Venezuelan government established a fixed rate of 4.30 per dollar. Again, effective February 13, 2013 the currency was further devalued to a rate of 6.30 per dollar. This change caused many companies to take large charges on the remeasurement of their Venezuelan operations for their 2013 fiscal years. Such a charge is a one-time, non-operating expense and is not indicative of the operations of the company.
Our models remove this distortion to reveal a company's recurring, core-operating profitability or NOPAT.
A great example of the distorting effect that hidden currency charges can have on a firm's GAAP earnings is Ford Motor Company (F). In 2013, F's reported earnings were negatively impacted by $186 million due to the devaluation of the Bolivar. This charge can be seen here in the notes of Ford's 2013 10-K. Our models remove this charge so investors can see the true profitability of F.
Figure 1 shows five companies most affected, by percentage amount and dollar amount, by Venezuelan Bolivar currency charges adjusted out of NOPAT for 2013.
Figure 1: Companies Most Affected By Venezuelan Bolivar charges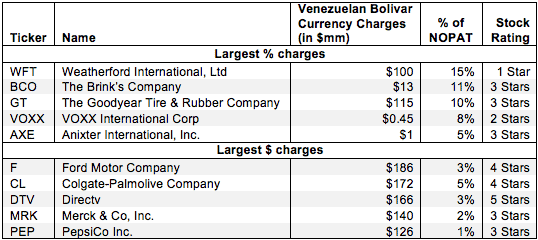 Sources: New Constructs, LLC and company filings
After digging through company reports, so far this year we have found 253 companies taking a charge due to foreign currency devaluation. The total amount of these charges is upwards of $3.7 billion. Not all of these charges were due to the devaluation of the Bolivar, but a large number were.
Though it's less common, foreign currency exchange fluctuations can also artificially boost reported earnings. In 2013, TSLA had a foreign currency exchange gain of $12 million due to the weakening of the Japanese Yen, which decreased the value of its liabilities in that currency. In August we pointed out that TSLA's foreign currency exchange gain in the first quarter of 2013 helped them report the profit that sent the stock on its impressive tear.
Though the removal of currency losses can increase NOPAT, it does not always mean the company's stock will earn a favorable rating. WTF and VOXX in Figure 1 earn a Very Dangerous and Dangerous rating respectively.
In other cases, however, these currency losses can artificially depress reported earnings and make a stock look overvalued. Case in point: The Goodyear Tire & Rubber Company (GT) from Figure 1 had $115 million (10% of NOPAT) in currency charges from the devaluation of the Venezuelan Bolivar. Removing these unusual charges increased GT's NOPAT to $1.2 billion. Without the removal of this charge, GT would have earned our Dangerous rating, but with the adjustment it earns our Neutral rating.
Without careful analysis of footnotes and MD&A, investors would not see the true profitability of GT. Diligence pays.
Kyle Guske II and Sam McBride contributed to this report
Disclosure: David Trainer, Kyle Guske II, and Sam McBride receive no compensation to write about any specific stock, sector, or theme.
Feature Photo Credit: jumakk (flickr)