After the prime mortgage insurance market had a record year in 2020, this firm will have trouble keeping the good times rolling. With limited growth opportunities, we're closing Radian Group (RDN: $24/share).
We leverage more reliable fundamental data, proven in The Journal of Financial Economics[1], with qualitative research to highlight these firms whose stocks present excellent risk/reward.
Radian's Market Profits Won't Stay at Current Levels
We made Radian Group a Long Idea in April 2019 and the stock has underperformed the S&P 500 since then. We believe its underperformance is likely to continue as profits fall from current levels.
Figure 1: Long Idea Performance: From Date of Publication Through 8/17/2021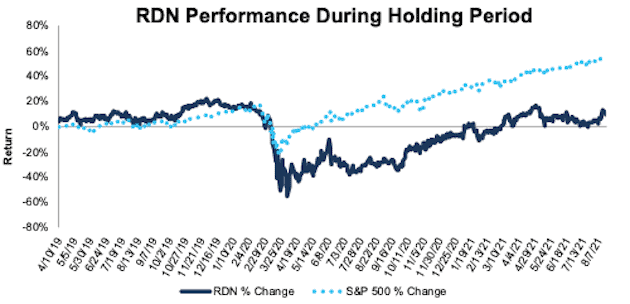 Sources: New Constructs, LLC and company filings
What's Working: Revenue from the Radian's real estate services segment grew 48% YoY in 2Q21. The firm's monthly premium insurance in force grew by 8%, which drove 2% YoY growth in net premiums earned.
New purchase mortgage originations, a key demand indicator for Radian's primary mortgage insurance segment, reached all-time highs of $1.4 trillion in 2020.
What's Not Working: The firm is seeing the signs of demand slowing from 2020 as its total revenue fell 7% YoY in 2Q21.
While Radian saw a 42% YoY decline in the total number of defaulted loans in 2Q21, its risk to loan defaults is likely to rise from current levels. The delinquency rate on single family mortgages has risen from 2.3 in 4Q19 to 2.8 in 1Q21.
If the end of the foreclosure moratorium drives delinquency rates even higher, or if mortgage rates increase, Radian's profits will likely suffer and the stock price could fall.
In an effort to generate more business, the firm is also writing lower-quality policies, which creates another red flag. While its new insurance written (NIW) fell 15% YoY in 2Q21, only 61% of NIWs were written on mortgages with a 740 or greater FICO score, compared to 67% in 2Q20.
As the firm balances the difficult choice between pursuing revenue growth and maintaining a quality loan portfolio, neither path is likely to lead the firm to sustain its 2020 profit levels. With limited growth opportunities ahead for this firm, we are closing this long position.
This article originally published on August 18, 2021.
Disclosure: David Trainer, Kyle Guske II, and Matt Shuler receive no compensation to write about any specific stock, sector, style, or theme.
Follow us on Twitter, Facebook, LinkedIn, and StockTwits for real-time alerts on all our research.
[1] Our research utilizes our Core Earnings, a more reliable measure of profits, proven by professors at Harvard Business School & MIT Sloan.