We closed this position on June 10, 2019. A copy of the associated Position Update report is here.
We warned investors in August that TrueCar's (TRUE: $11/share) flawed business model would lead to slower growth and further losses in the future. The company's 3Q17 earnings report on November 6 showed the first signs of that prediction coming true, as the company came in with revenue and guidance well below expectations. Just one day after earnings, TRUE fell over 30%.
The main issues we highlighted in our initial Danger Zone report only look worse.
The company remains focused on maintaining a positive relationship with dealers to the detriment of the consumers that use the site.
As a result, TrueCar has diminishing returns on its marketing spend.
The company continues to mask its mounting losses with misleading non-GAAP metrics.
For all these reasons, TrueCar still has significant downside even after its 30% decline.
Dealer Focus Alienates Consumers
The root of TrueCar's problems is its fundamentally flawed business model. The company markets itself as serving the interests of consumers, but it gets paid by dealers. As a result, TrueCar needs to cater to its dealer customers, even at the expense of getting consumers the best price.
We mentioned in our initial article the giant see-saw in TrueCar's office with the words "dealer" and "consumer" written on either end. The company's third quarter earnings call again emphasized that TrueCar remains stuck on the dealer end of the see-saw. Executives and analysts said the word "dealer" 70 times compared to just 27 utterances of "consumer."
Figure 1: Number of Times the Words "Dealer" And "Consumer" Have Been Said on Each Earnings Call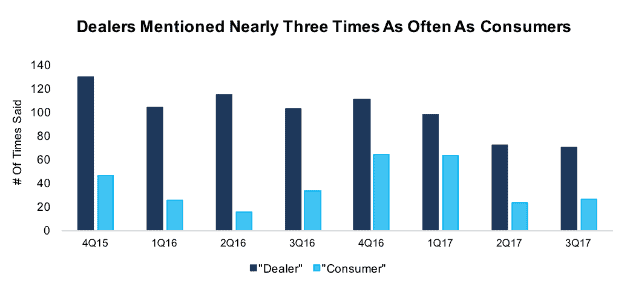 Sources: Seeking Alpha Earnings Call Transcripts
In the eight earnings calls CEO Chip Perry has participated in since assuming his role, executives and analysts on the calls have said the word "dealer" 803 times, or nearly three times as often as the word "consumer". Perry has worked hard to regain the trust of dealers, even at the expense of serving consumers.
Diminishing Return on Marketing
In its focus on appealing to dealers, TrueCar offers less value to consumers. There's a lot of competition in the online automotive space, with the big IPO from CarGurus (CARG) the most recent example. If TrueCar isn't focused on getting consumers the absolute best price, consumers can go to a number of other options.
This competition caught up with TrueCar in the third quarter. The company's sales and marketing costs grew by 14% year over year, which outpaced many underlying metrics.
Revenue grew by 10% year over year.
Monthly unique visitors were up just 1%.
Monetization—the amount TrueCar earns per transaction—fell by 4%.
Only the total number of transactions grew as quickly as marketing costs as a strong third quarter for auto sales boosted unit sales 15% year over year. When the auto market turns weaker again, TrueCar's lack of user growth and monetization will pose an even bigger problem for the company.
Non-GAAP Profit Is an Illusion
The only bright spot for TrueCar investors was that the company reported a slight non-GAAP profit in Q3 compared to a loss a year ago.
That "profit" comes from the company excluding stock-based compensation from its non-GAAP net income metric. TrueCar is not actually earning a profit, it's just diluting current investors by paying employees with stock to mask its mounting losses.
Over the past year, TrueCar's weighted average diluted shares outstanding has increased by almost 25%. Add in the fact that insiders have dumped another 410 thousand shares (~1% of the public float) over the past three months, and we don't see many signs of management's confidence in the stock.
Significant Downside Remains
In our original article, we said that TRUE could be worth as little as $1/share. Nothing about these third quarter results challenges that prediction. In fact, the company's 10% revenue growth in Q3 falls short of the 12% growth assumption used in the DCF modeling scenario that resulted in a present value for the stock of $1/share.
Investors should not make the mistake of thinking that the 30% post-earnings drop makes TRUE a value. At ~$11/share, TRUE has much further to fall.
This article originally published on November 7, 2017.
Disclosure: David Trainer, Sam McBride, and Kyle Guske II receive no compensation to write about any specific stock, sector, style, or theme.
Follow us on Twitter, Facebook, LinkedIn, and StockTwits for real-time alerts on all our research.