The saga of WeWork (WE: $1/share), which we called The Most Ridiculous IPO of 2019, reached its logical (to those that analyze fundamentals) conclusion when the company officially filed for bankruptcy on November 6, 2023. The bankruptcy is a massive fall from grace for the company once valued at $47 billion.
WeWork Reveals the Ugly Side of the Easy Money Unicorn Era
SoftBank's first pre-IPO investment in WeWork was at a valuation of $20 billion. SoftBank doubled down soon after and invested more at a valuation of $47 billion[1], the highwater mark for the company and the value at which Wall Street originally tried to sell the ill-fated IPO.
When WeWork's first IPO attempt failed, we called it "a win for Main Street", and we did not expect they would get another chance.
Just a few months after trying to sell the public on a $47 billion valuation, SoftBank marked the valuation of WeWork down to just $2.9 billion[2] on its own books. If Wall Street would try and sell a stock at a $47 billion valuation when it's worth under $3 billion, what else might they try to sell you?
As we wrote in The Unicorn Bubble Is Bursting, the rise of massive venture funds like SoftBank's Vision Fund, driven by ultra-low interest rates, created an environment with more capital than profitable investment opportunities. WeWork's epic rise and fall epitomizes how irrational investors were willing to be as they chased returns in those years of excess liquidity.
Figure 1: WeWork's Stock Collapse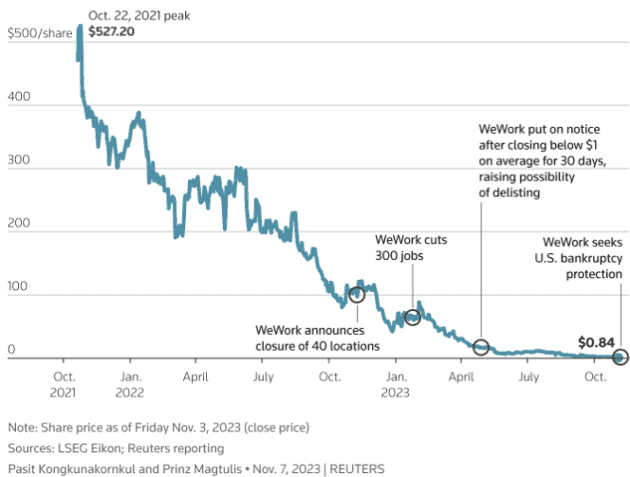 Sources: LSEG Eikon, Reuters reporting
The Ill-Fated SPAC and Going to $0 Is a Real Risk
Despite the failed IPO, WeWork eventually found a back door to go public via a special purpose acquisition company (SPAC) in October 2021 and received $1.3 billion in proceeds. The transaction valued WeWork at $9 billion.
Fast forward to the present, just before its bankruptcy filing, the company had a market cap of just $45 million. In the space of about two years, WeWork made another $9 billion in value disappear.
Unforced Error
SoftBank has lost a cumulative $14.4 billion on WeWork according to its 3Q23 earnings release. WeWork's bankruptcy occurred subsequent to the end of the quarter, so losses could be even higher. Beyond SoftBank, the numerous investors in the SPAC that valued WeWork at $9 billion will be zeroed out. The sheer magnitude of capital destruction is alarming. Even more alarming is how easily these losses could've been avoided.
The Importance of Diligence
We called WeWork The Most Ridiculous IPO of 2019 because our unconflicted fundamental analysis showed the company did not make money, its losses were growing, and, as a result, the business could not justify a valuation anywhere near $47 billion. In fact, the red flags were so large, we followed up our original report with the warning Don't Buy WeWork's IPO At Any Price, where we made the case that the company could be worthless. For those who read our reports, we hope you heeded our warnings and avoided a blowup in your portfolio. For those that ignored the warnings, like SoftBank, the losses and capital destruction have been immense.
Investors and markets can learn from WeWork's story. We encourage investors to be more discerning about how the allocate capital because WeWork is just the first of many other unprofitable and zombie companies facing potential bankruptcy. As the Fed increasingly adopts a "higher for longer" mentality, the days of free and easy money appear over. We hope that the days of billions in capital being thrown at money losing businesses in hopes of duping unsuspecting retail investors are over as well.
This article was originally published on November 9, 2023.
Disclosure: David Trainer, Kyle Guske II, Italo Mendonça, and Hakan Salt receive no compensation to write about any specific stock, style, or theme.
Questions on this report or others? Join our Society of Intelligent Investors and connect with us directly.
[1] At the time, it was reported SoftBank had invested $10 billion in WeWork, a figure that would later reach upwards of $18 billion.
[2] Directly after the failed IPO, SoftBank provided WeWork a bailout, worth $9.5 billion, which saw SoftBank take majority control of WeWork. At that time, WeWork was valued at just $7 billion.