Check out this week's Danger Zone Interview with Chuck Jaffe of Money Life and Marketwatch.com
We review thousands of filings every day to alert clients to corporate events or disclosures that cause us to question the validity of a company's financial reporting or the efficiency of the market for its stock.
We suspend our ratings on certain stocks when we feel the company's latest reported financials are no longer reliable or indicative of the risk/reward of the stock. For example, an announcement of an acquisition or spin-off means the current financial statements could change significantly. Until the company gives us updated financials, we have no way of reliably modeling the current business. We also suspend our rating when certain events cause a stock to be driven by news instead of fundamentals.
We exclude stocks with suspended ratings from consideration for our Most Attractive and Most Dangerous stocks lists. We do not remove these stocks from coverage so that clients can still see our assessment of the risk/reward of the stock before the event that caused us to suspend the rating.
Notable Suspended Ratings
Beyond our standard Ratings, a Suspended Rating provides additional insight into the investment potential of a given stock. There are certain exogenous forces in business, as in all things in life, that cannot be ignored no matter how much analysis we have done on a company and its stock. When those forces are large enough, we recognize that our standard ratings based on the fundamentals of the company and the DCF valuation of the stock are not as relevant as we want them to be for our clients. Some examples of why we issue Suspended Ratings are below.
Pfizer (PFE) agrees to acquire Allergan (AGN) for $160 billion. This acquisition was announced in late November 2015. The $160 billion price tag, not only represented a 30% premium on AGN shares at the time of announcement, but also represents 62% of Pfizer's invested capital and 95% of its total assets. This acquisition will significantly alter the financials of Pfizer's business. There will also be material tax ramifications when the business relocates its headquarters to Ireland. Finally, we have found that the larger an acquisition, the more likely impairments are to take place, which means Pfizer is at great risk of taking shareholder damaging write-downs. Until they issue updated financials, we will not have the granular data required for the precision of our models. In the meantime, we must recognize that the current financials are not as representative as we need them to be to issue our ratings with adequate confidence. Most of the movement of the stock, until the acquisition closes, will be based on news of the acquisition's progress.
We also suspend the rating of AGN due to the fact that it has become an "Acquisition Target". AGN will mainly trade on the progress of the acquisition and not the fundamentals of the business. Since the announcement, PFE is down 3%, AGN is down nearly 5%, while the S&P 500 is down over 11%.
Apple (AAPL) and its abnormally high ROIC. We recently highlighted there is a high correlation between ROIC and stock valuation. At the same time, by analyzing over 3000 company's 10-K's and calculating ROIC for each one, we can identify outliers. In this case, we have given Apple a "Custom" suspended rating due to its abnormally high ROIC. We first made note of this issue in May 2013, and while it was admittedly early, we felt that its 340% ROIC was not only abnormally high, but also unsustainable. A more normal, long-term ROIC for Apple is closer to 40-50%, which is similar to Microsoft (MSFT) or Google (GOOGL). As Apple's high ROIC declines, (from 340% in 2013 to 238% TTM) we expect to see similar action in the company's valuation. Without significant differentiation and innovation, Apple's current profitability and ROIC has reached a ceiling. It's worth noting that AAPL has fallen 22% over the past six months, compared to an 11% decline in the S&P 500. A further decline in ROIC could push shares even lower. As liquidity dries up, the market will begin to recognize true, long-term fundamentals. Ranking Apple as Attractive without noting its abnormally high ROIC would be misleading to clients and readers alike.
Central European Media Enterprises (CETV) going concern warning. While most investors are aware that auditors provide an opinion on whether or not the presented financials accurately reflect the financial position of a company, they may not be aware of the going concern opinion. In the case of CETV, its auditor, Deloitte, expressed substantial doubt over the company's ability to continue due to the expectation that operating cash flows will be insufficient to cover operating expenses and debt obligations. This going concern is present in CETV's 2013 and 2014 annual report. Why is this warning important? According to a recent study, over half of the companies that filed for bankruptcy from 2000-2009 had received a "going concern warning" the prior year. While this issue may have been resolved in late 2015, New Constructs flags all companies with going concern warnings and gives them a suspended rating until the going concern is removed by the company's auditor, which could occur when CETV releases its 2015 annual report. Investors are free to reach their own conclusion on the issue, but by issuing a suspended rating we are alerting all clients to any potential issues.
17 Reasons For Suspended Ratings
Figure 1 shows the reasons for the 404 stocks that currently get our Suspended Rating. Interesting to note that the most common reason for a suspended rating is Adverse Auditor's Opinion.
Figure 1: Suspended Ratings Breakdown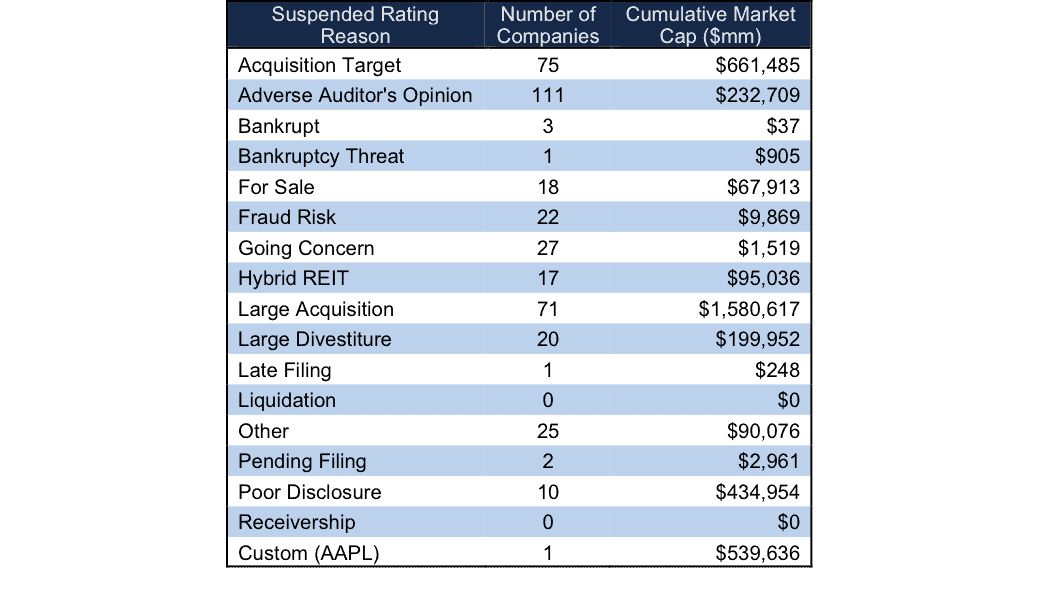 Sources: New Constructs, LLC and company filings
Disclosure: David Trainer and Kyle Guske II receive no compensation to write about any specific stock, sector, or theme.
Click here to download a PDF of this report.
Photo Credit: vittorio sciosia (Flickr)