For those looking for the best financial analysis ratios in the business, you've come to the right place.
Harvard Business School (HBS) and MIT Sloan show that our proprietary database of footnotes disclosures drives a superior measure of "core earnings". See the Appendix of this paper for direct comparison of our analysis of NOPAT and Invested Capital on a mega cap company to Bloomberg and Capital IQ's numbers.
We give you the financial due diligence needed to fulfill the Fiduciary Duty of Care.
Enterprise value represents the value of the firm to all stakeholders.
The theoretical value of Enterprise Value is the total takeover value of the firm. And if that is the case, then all claims on cash flows need to be included.
We go the extra mile with our diligence to ensure all claims are captured in our Enterprise Value formula. For details on these adjustments and more see our Accounting Fixes section.
Due to differences in capital structure and operational activities, we calculate Enterprise Value differently for Financials firms compared to non-Financials firms. For example, financials are in the business of selling money; so there is no such thing as Excess Cash for them.
Figure 1 provides the formulas for calculating Enterprise Value.
Figure 1: How to Calculate Enterprise Value for Financials and Non-Financials Firms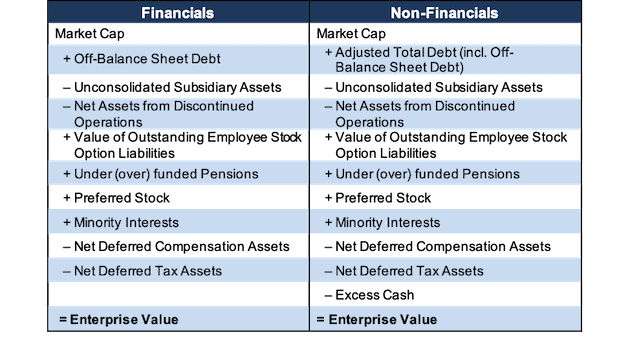 Sources: New Constructs, LLC and company filings
Note that Enterprise Value is the denominator in our Free Cash Flow Yield calculation.
Our models and calculations are 100% transparent because we want our clients to know how much work we do to ensure we give them the best earnings quality and valuation models in the business.