Years of improving profitability and a relatively stagnant stock price make this company look fairly valued. As a result, we're closing this outperforming Danger Zone pick, GoDaddy (GDDY: $72/share).
We leverage more reliable fundamental data, proven in The Journal of Financial Economics[1] and shown to provide a new source of alpha, with qualitative research to highlight this firm whose stock no longer presents the same risk/reward it once did.
GDDY Has Outperformed as a Short Since Our Original Danger Zone
We made GoDaddy a Danger Zone pick in April 2018 and reiterated our opinion in September 2018 and August 2019. At the time of our original report, GDDY earned a Very Unattractive rating, and the stock has outperformed the market as a short by 59% since. We believed the company's legacy domain registration business was largely commoditized and competition in the business applications and hosting segments meant a path to profitability looked unlikely.
The domain business still looks commoditized, but GoDaddy has built a profitable niche as a one-stop shop for website hosting, building, and conducting ecommerce. Given that the stock price has traded in largely the same range over the last three years, it no longer looks as overvalued as it did at the time of our report.
Figure 1: Danger Zone Performance: From Date of Publication Through 11/10/2021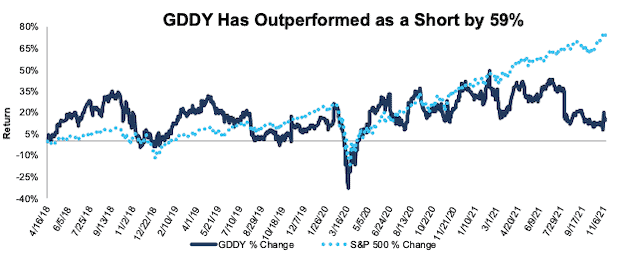 Sources: New Constructs, LLC and company filings
What's Working for the Firm
Leveraging Brand and Market Share. GoDaddy achieved profitability by simplifying the process of building an ecommerce business and leveraging its position as the world's largest domain registrar. GoDaddy is also the largest web hosting provider and the largest virtual private server hosting provider.
The company has improved its website builder, expanded its ecommerce and marketing tools, and launched its own payments platform to provide customers a one-stop ecommerce solution.
The company's net operating profit after-tax (NOPAT) margin has improved from 2% in 2017 to 9% over the trailing-twelve-months (TTM) while invested capital turns increased from 0.68 to 0.95 over the same time. Rising operational and capital efficiency drive GoDaddy's return on invested capital (ROIC) from 2% in 2017 to 8% TTM. GoDaddy's Core Earnings, a more reliable measure of profitability, improved from -$42 million in 2017 to $195 million over the TTM period.
Adding Ancillary Services. GoDaddy has also expanded its offering to include more services, which could drive more profitable growth for the company. In 2Q21, GoDaddy launched GoDaddy payments, which allows users to handle their commerce transactions directly through GoDaddy. In 3Q21, the company rolled out new point of sale devices to integrate both online and offline commerce through what it calls its "OmniCommerce" solutions.
Guiding for Future Growth. GoDaddy beat both the top- and bottom-line consensus estimates in 3Q21 and the annualized gross merchandise volume across GoDaddy's platform grew to $25 billion in 3Q21, which is up 30% year-over-year (YoY).
Going forward, the company raised its full-year revenue expectation and guided for 14% YoY growth, which, if achieved, would be the company's eighth straight year of double-digit YoY revenue growth.
Stock Not As Risky Now That Company Is Profitable
While GoDaddy still faces competition in its different business segments, it has proven it can profitability run a domain name and website building business, a feat that remains elusive for competitors such as Wix (WIX) and Squarespace (SQSP). Given its improved business and the largely stagnant stock price over the holding period, the price now looks fairly valued.
To justify its current price, GoDaddy must:
achieve a 10% NOPAT margin (equal to 2020) and
grow revenue by consensus estimates in 2021, 2022, and 2023
grow revenue by 10% each year (continuation of 2023 estimates) from 2024-2030, then
the stock is worth $75/share today, nearly equal to the current stock price. See the math behind this reverse DCF scenario. In this scenario, GoDaddy grows NOPAT by 11% compounded annually for the next decade. For reference, GoDaddy grew NOPAT by 39% compounded annually from 2015 to 2020.
Even if consensus estimates are too optimistic, the downside risk in GoDaddy is much less than other Danger Zone picks.
If we assume GoDaddy's:
NOPAT margin drops to 8% (3-year average) and
revenue grows by consensus estimates in 2021, 2022, and 2023, and
revenue grows by 10% in 2024, 9% in 2025, and 8% in 2026-2030, then,
The stock is worth $50/share today – a 33% downside to the current price. See the math behind this reverse DCF scenario. Such a scenario would be a significant reversal of margins, which have improved YoY in 2018, 2019, and 2020.
Figure 2: GoDaddy's Historical vs. Implied NOPAT
Sources: New Constructs, LLC and company filings.
GoDaddy no longer presents the same risk/reward as it once did, and we're closing this successful Danger Zone pick.
This article originally published on November 12, 2021.
Disclosure: David Trainer, Kyle Guske II, and Matt Shuler receive no compensation to write about any specific stock, sector, style, or theme.
Follow us on Twitter, Facebook, LinkedIn, and StockTwits for real-time alerts on all our research.
[1] Our research utilizes our Core Earnings, a more reliable measure of profits, as proven in Core Earnings: New Data & Evidence, written by professors at Harvard Business School (HBS) & MIT Sloan and published in The Journal of Financial Economics.