Kulicke and Soffa (KLIC) – Closing Long Position – up 26% vs. S&P up 35%
We originally featured Kulicke and Soffa (KLIC: $27/share) as a Long Idea in our article "Selling Shovels in a Gold Rush: Buy This Sector to Profit From the Internet of Things" on June 12, 2017. That article highlighted four stocks in the semiconductor equipment industry that investors should buy.
We later made KLIC a standalone Long Idea on January 31, 2018. Since that article, KLIC has performed exactly in-line with the S&P 500, with both up 16%.
Of the four stocks featured in the original article, KLIC is the only one to underperform. The performance of the other three is as follows:
Orbotech (ORBK): Up 60% vs. S&P 500 up 7% when we closed the position on November 27, 2017
KLA-Tencor (KLAC): Up 73% vs. S&P 500 up 35%, still open
Lam Research (LRCX): Up 92% vs. S&P 500 up 35%, still open
KLIC's business was hit much harder by the recent cyclical downturn in the industry. Its net operating profit after tax (NOPAT) declined by 88% in 2019 compared to just a 15% decline for KLAC (which acquired ORBK) and a 24% decline for LRCX.
KLIC's struggles appear to be due in part to the fact that their wire bonding method of chip packaging – where KLIC dominates – is losing ground to other methods that allow for more dense and complex chip design. The cyclical downturn appears to have hastened this transition, which led to the significant erosion of KLIC's profitability.
In retrospect, we erred in placing KLIC in the same tier as the other three companies above. Its fundamentals looked similar at the time, but its reliance on a technology slowly becoming obsolete made it a much riskier stock. The recent decline in profitability means KLIC now earns our Neutral rating, so we are closing this position.
Figure 1: KLIC vs. S&P 500 – Price Return – Unsuccessful Long Call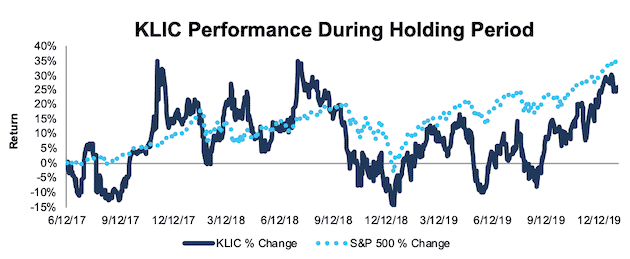 Sources: New Constructs, LLC and company filings
Note: Gain/Decline performance analysis excludes transaction costs and dividends.
This article originally published on January 14, 2020.
Disclosure: David Trainer, Kyle Guske II, and Sam McBride receive no compensation to write about any specific stock, style, or theme.
Follow us on Twitter, Facebook, LinkedIn, and StockTwits for real-time alerts on all our research.