Though this bank has delivered years of superior profitability, a recent rise in its stock price, along with mounting competition, make risk/reward less attractive. We're closing this Long Idea, Lakeland Financial Corp (LKFN: $68/share).
We leverage more reliable fundamental data, proven in The Journal of Financial Economics[1], with qualitative research to highlight these firms whose stocks present excellent risk/reward.
Lakeland Financial's Risk/Reward Is No Longer Attractive
We made Lakeland Financial a Long Idea in May 2019. Since then, the stock has underperformed the S&P 500 by 7%, and no longer offers quality risk/reward.
Figure 1: Long Idea Performance: From Date of Publication Through 8/17/2021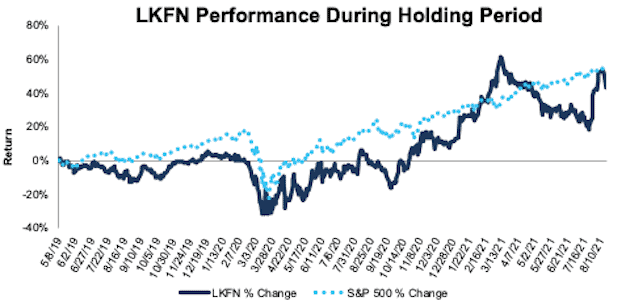 Sources: New Constructs, LLC and company filings
What's Working: Net interest income improved 10% year-over-year (YoY) in 2Q21 and noninterest income rose 2% YoY over the same time. Organic loan growth was 6% YoY while core deposits grew 17%.
The Paycheck Protection Program (PPP) strengthened Lakeland Finanicial's borrowers' cash position, which in turn improved the quality of the bank's loan portfolio.
Longer-term, Lakeland Financial has grown Core Earnings by 15% compounded annually over the past 10 years.
In our first report on Lakeland Financial, we noted the firm's long history of superior profitability and growing economic earnings. The firm's 14% TTM ROIC is still greater than the 11% Financials sector ROIC. Lakeland Financial's impressive ROIC helped it grow economic earnings from $16 million in 2012 to $62 million over the TTM.
What's Not Working: PPP loans generated 7% of the bank's interest income in 2Q21. However, this extra income from PPP will not persist beyond the end of the program on May 31, 2021.
As a small regional bank, Lakeland Financial faces competition from bigger, traditional banks with more scale advantages as well as new entrants with disruptive technology. Facing pressure from both sides places the bank's ability to outperform the industry going forward in doubt.
Lakeland Financial leverages its high level of customer service to create a competitive advantage. However, to meet customer expectations going forward, Lakeland Financial must make considerable technological investments to keep up with a quickly changing industry. Instead of investing in the future, however, the bank has reduced its capital expenditures over the past four years. Lakeland Fiinancial's capital expenditures fell from $10 million in 2016 to just $6 million over the TTM.
Lakeland Financial is showing signs that competition is putting pressure on its business. Over the last three years, the bank's deposits grew 8% compounded annually – a slower rate than the 10% compound annual growth rate of deposits for all U.S. commercial banks over the same time. JPMorgan Chase (JPM), the largest U.S. bank, grew its deposits by 14% compounded annually over the last three years. In other words, Lakeland Financial is giving up market share to banks with greater scale.
After rising 42% and outperforming the S&P 500 (+31%) over the past 12 months, we believe now is a good time to close this long position, which no longer presents the same risk/reward it once did. Long-term headwinds, namely from larger competitors and entirely new ways to bank could slow down the firm, and in turn, the stock's performance.
This article originally published on August 18, 2021.
Disclosure: David Trainer, Kyle Guske II, and Matt Shuler receive no compensation to write about any specific stock, sector, style, or theme.
Follow us on Twitter, Facebook, LinkedIn, and StockTwits for real-time alerts on all our research.
[1] Our research utilizes our Core Earnings, a more reliable measure of profits, proven by professors at Harvard Business School & MIT Sloan.