Levi Strauss & Co (LEVI) – Closing Long Position – down 17% vs. S&P up 44%
We made Levi Strauss & Co (LEVI: $18/share) a Long Idea on March 22, 2019, the date of its IPO. LEVI earned a Very Attractive rating at the time of our report. We believed rising economic earnings, diversification of its revenue streams, growing direct-to-consumer business, and relatively cheap pre-IPO valuation gave the stock lots of upside.
This report leverages our cutting-edge Robo-Analyst technology to deliver proven-superior fundamental research and support more cost-effective fulfillment of the fiduciary duty of care[1].
During the more than three-year holding period, LEVI underperformed as a long position, falling 17% compared to a 44% gain for the S&P 500.
Levi Strauss' strong fundamentals have helped the company recover from pandemic-related disruptions in 2020, and its Core Earnings over the trailing twelve months (TTM) are 40% above 2019 levels. However, as we look ahead, rising material costs, the strong possibility of a slowdown in consumer spending, and the growing risk of trade restrictions present near-term headwinds to the company's improving profitability.
Longer term, the company's strategy to grow sales in China exposes Levi Strauss to more geopolitical risk at a time when relations between the West and China are becoming increasingly strained. Furthermore, Levi Strauss' expansion into the women's products market is likely to be costly given ever-changing fashion trends and ample competition.
Given the unfavorable outlook for near- and long-term profit growth, Levi Strauss' stock holds limited upside potential. We believe there are better opportunities in this market that present much more favorable risk/reward and are closing this long position.
Figure 1: LEVI vs. S&P 500 – Price Return – Unsuccessful Long Idea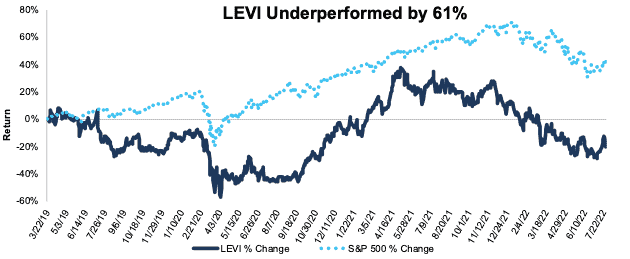 Sources: New Constructs, LLC and company filings
Note: Gain/Decline performance analysis excludes transaction costs and dividends.
This article originally published on July 28, 2022.
Disclosure: David Trainer, Kyle Guske II, Matt Shuler, and Brian Pellegrini receive no compensation to write about any specific stock, style, or theme.
Follow us on Twitter, Facebook, LinkedIn, and StockTwits for real-time alerts on all our research.
[1] Our research utilizes our Core Earnings, a more reliable measure of profits, as proven in Core Earnings: New Data & Evidence, written by professors at Harvard Business School (HBS) & MIT Sloan and published in The Journal of Financial Economics.