Palantir Technologies Inc. (PLTR: $11/share) – Closing Short Position – up 9% vs. S&P up 22%
We put Palantir in the Danger Zone on September 28, 2020, just days before its IPO. At the time of our report, PLTR earned an Unattractive rating. We pointed out that Palantir's profitless revenue growth, unique risks surrounding its government contracts, high level of customer concentration, and expensive pre-IPO valuation gave the stock poor/risk reward.
This report leverages our cutting-edge Robo-Analyst technology to deliver proven-superior[1] fundamental research and support more cost-effective fulfillment of the fiduciary duty of care.
During the 1.5+ year holding period, PLTR outperformed as a short position, rising just 9% compared to a 22% gain for the S&P 500.
Though Palantir's Core Earnings over the trailing-twelve-months (TTM) are -$352 million, the company's profitability is improving. Return on invested capital (ROIC) rose from -49% in 2018 to -13% TTM and excluding 2020, the company's economic earnings have improved year-over-year each year since 2018.
In addition to the company's improved fundamentals, long-term tailwinds will continue to buttress Palantir's business and add more risk to shorting this stock. First, growing tension between the east (China & Russia) and the west (U.S. & Europe) will likely drive more demand for Palantir's products and services. Second, as governments continue to outsource military operations, companies like Palantir will see their businesses grow.
Lastly, we see risk of "dumb money" acquiring Palantir as a vanity asset, despite the high expectations for profit growth implied in its stock price. We think it is time to close this successful Danger Zone position.
Figure 1: PLTR vs. S&P 500 – Price Return –Successful Danger Zone Pick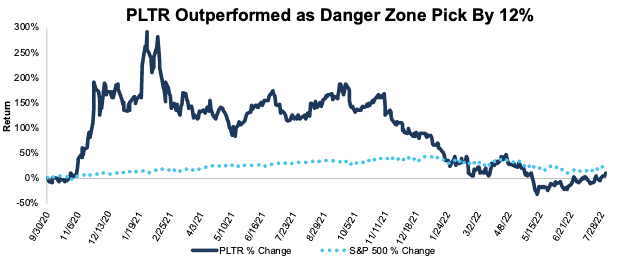 Sources: New Constructs, LLC and company filings
Note: Gain/Decline performance analysis excludes transaction costs and dividends.
This article originally published on August 3, 2022.
Disclosure: David Trainer, Kyle Guske II, Matt Shuler, and Brian Pellegrini receive no compensation to write about any specific stock, style, or theme.
Follow us on Twitter, Facebook, LinkedIn, and StockTwits for real-time alerts on all our research.
[1] Our research utilizes our Core Earnings, a more reliable measure of profits, as proven in Core Earnings: New Data & Evidence, written by professors at Harvard Business School (HBS) & MIT Sloan and published in The Journal of Financial Economics.