Years of declining profitability and mounting competition lead us to close this Long Idea, PetMed Express, Inc. (PETS: $30/share).
We leverage more reliable fundamental data, proven in The Journal of Financial Economics[1], and shown to provide a new source of alpha, with qualitative research to highlight this firm whose stock no longer presents the same risk/reward it once did.
PETS Has Underperformed Since Our Original Long Idea
We made PetMed Express a Long Idea in June 2018 and the stock has underperformed the market by 98% since then. At the time of our report, PETS earned a Very Attractive rating. We believed the company's ecommerce position in an overlooked niche market with favorable long-term trends would support continued profit growth. While the company still earns a Very Attractive rating, headwinds look likely to hamper the company's growth prospects moving forward. Details below.
Figure 1: Long Idea Performance: From Date of Publication Through 11/2/2021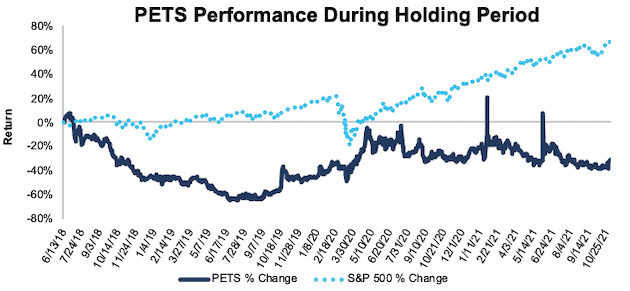 Sources: New Constructs, LLC and company filings
Multiple Headwinds Make PetMed Express Less Attractive
PetMed Express' competitive position has worsened as other large pet care and pet med retailers now own the majority of the market. In calendar 2020, PetMed Express' business accounted for just 0.3% of personal pet expenditures. Competitors such as Chewy (CHWY), PetsMart, Walmart Pet Rx (WMT), Amazon (AMZN), and Tractor Supply Rx (TSCO) have larger customer bases, offer more products, operate larger distribution networks, and offer better-developed omnichannel experiences than PetMed Express.
PetMed Express has struggled to add new customers since fiscal 2017, and the company's number of new customers acquired fell 32% year-over-year (YoY) in 2Q22. Going forward, acquiring new customers will likely get more difficult and expensive.
In its fiscal 2Q22 earnings call, management noted, "some of the channels like Facebook have obviously got [sic] more expensive due to the loss of first party data due to the Apple IDFA decision." Apple's privacy changes have had a very immediate and noticeable effect to PetMed Express' advertising costs. The advertising cost of acquiring a new customer for the six months ended September 30, 2021 was $71/per customer compared to $50/per customer in the prior period, or a 42% YoY increase.
Ever-increasing competition is clearly taking its toll on the business, and PetMed Express' Core Earnings fell from $40 million in fiscal 2018 to $26 million over the trailing-twelve-months.
With its eye on a larger total addressable market, PetMed Express wants to expand beyond pet meds and into the rest of the pet care market. However, the challenges PetMed Express faces in the pet meds market will only intensify in the even more competitive pet care market, with peers offering more products to larger customer bases. At the end of fiscal 2021, PetMed Express offered just 3,000 products compared to Chewy's 70,000 products. Furthermore, over the past two years, PetMed Express served just over 2 million active customers compared to Chewy's ~20 million active customers[2] at the end of its fiscal 2Q22.
While the company still earns a Very Attractive rating, the rise of formidable competition, ballooning advertising costs, and the company's long-term decline in profitability means the stock no longer provides the same risk/reward it once did, and we're closing this long position.
This article originally published on November 3, 2021.
Disclosure: David Trainer, Kyle Guske II, and Matt Shuler receive no compensation to write about any specific stock, sector, style, or theme.
Follow us on Twitter, Facebook, LinkedIn, and StockTwits for real-time alerts on all our research.
[1] Our research utilizes our Core Earnings, a more reliable measure of profits, as proven in Core Earnings: New Data & Evidence, written by professors at Harvard Business School (HBS) & MIT Sloan and published in The Journal of Financial Economics.
[2] Chewy counts active customers as the total number of individual customers who have made a purchase at least once during the preceding 364-day period.