Equitable Holdings Inc. (EQH) – Closing Long Position – up 37% vs. S&P up 51%
We made Equitable Holdings (EQH: $29/share) a Long Idea on May 9, 2018, prior to its IPO. EQH earned a Neutral rating at the time of our report. We believed the market was ignoring the business' understated GAAP earnings and improving profitability.
This report leverages our cutting-edge Robo-Analyst technology to deliver proven-superior[1] fundamental research and support more cost-effective fulfillment of the fiduciary duty of care.
During the nearly four-year holding period, EQH underperformed by 14% as a long position, rising 37% while the S&P 500 gained 51%.
In our original report, we demonstrated that if EQH were valued at the same level as its peers, it would be worth $29/share – equal to today's price.
Though the stock has risen since its IPO, the company's fundamentals have headed the other direction. Equitable Holdings' Core Earnings have fallen from $1.3 billion in 2017 to -$586 million over the trailing twelve months (TTM) and have been negative in each of the past three years. The company's return on invested capital (ROIC) has fallen from 6.9% in 2017 to -0.5% over the TTM. Equitable Holdings' economic book value, or no growth value, has fallen from $25/share to -$15/share over the same time.
Given the rise in the stock's valuation, and the weakening of the company's fundamentals, this stock no long presents favorable risk/reward. We're closing this long position.
Figure 1: EQH vs. S&P 500 – Price Return – Underperforming Long Idea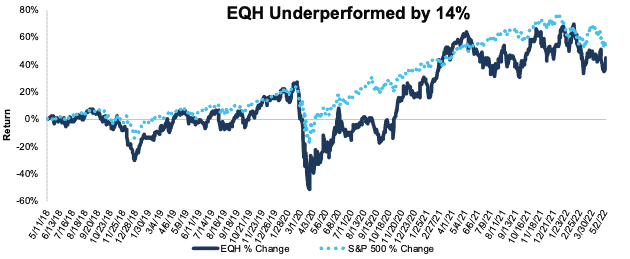 Sources: New Constructs, LLC and company filings
Note: Gain/Decline performance analysis excludes transaction costs and dividends.
This article originally published on May 6, 2022.
Disclosure: David Trainer, Kyle Guske II, and Matt Shuler receive no compensation to write about any specific stock, style, or theme.
Follow us on Twitter, Facebook, LinkedIn, and StockTwits for real-time alerts on all our research.
[1] Our research utilizes our Core Earnings, a more reliable measure of profits, as proven in Core Earnings: New Data & Evidence, written by professors at Harvard Business School (HBS) & MIT Sloan and published in The Journal of Financial Economics.