Hyatt Hotels Group (H) – Closing Long Position – up 104% vs. S&P up 64%
We made Hyatt Hotels Group (H: $95/share) a Long Idea on May 14, 2020 and reiterated our opinion on January 13, 2021. H earned a Neutral rating at the time of the reports. We felt the market was too focused on the short-term impact of COVID-19 shutdowns and undervalued the company's strong balance sheet, superior profitability amongst hotel operators, global diversification, and potential for profit growth once the pandemic subsided.
This report, along with all of our research[1], leverages our more reliable fundamental data[2], as proven in The Journal of Financial Economics and shown to provide a new source of alpha, to get the truth about earnings.
During the 1.5+ year holding period, H outperformed as a long position, rising 104% compared to a 64% gain for the S&P 500.
Hyatt weathered the depths of the pandemic shutdowns and its net operating profit after-tax (NOPAT) margin improved quarter-over-quarter (QoQ) in 2Q21 and 3Q21, after having plummeted in 2020. Return on invested capital (ROIC), while still negative, also improved QoQ in 2Q21 and 3Q21. Hyatt has also taken steps to adapt to a post-pandemic world by acquiring Apple Leisure and disposing of property assets with the aim of growing fee-based earnings.
Given the increase in price since May 2020, we believe that most of the juice has been squeezed out of this trade. Even assuming an improvement of NOPAT to 2019 levels, the stock only holds ~13% upside. With limited upside potential, risks of permanently lower demand for business travel, and threats from leisure-focused firms such as Airbnb (ABNB) and Vrbo (owned by Expedia [EXPE]), we're taking gains and closing this long position.
Figure 1: H vs. S&P 500 – Price Return – Successful Long Idea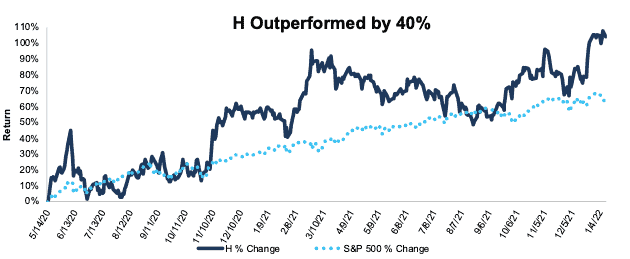 Sources: New Constructs, LLC and company filings
Note: Gain/Decline performance analysis excludes transaction costs and dividends.
This article originally published on January 11, 2022.
Disclosure: David Trainer, Kyle Guske II, and Matt Shuler receive no compensation to write about any specific stock, style, or theme.
Follow us on Twitter, Facebook, LinkedIn, and StockTwits for real-time alerts on all our research.
[1] Harvard Business School features our Robo-Analyst research automation technology in the case New Constructs: Disrupting Fundamental Analysis with Robo-Analysts.
[2] Three independent studies from respected institutions prove the superiority of our data, models, and ratings. Learn more here.