In our long thesis on Disney (DIS: $104/share) in January, we wrote that there were four key catalysts that could help the stock overcome ESPN fears and break out of its rut. They were:
New value-creating acquisitions
A successful standalone streaming service from ESPN (or a spinoff at the right valuation)
Further expansion in China
More blockbusters, whether that's the Star Wars and Marvel products exceeding expectations, success from the live action Beauty and the Beast, or the relaunch of the Indiana Jones franchise in 2019.
Last week, all four catalysts came together in a flurry of news that helped send shares up 6%. After a down year, Disney looks poised to deliver significant returns for shareholders.
Fox Acquisition Could Be a Game-Changer
Last week kicked off with the news that Disney had explored a deal to acquire the studio and other assets of 21st Century Fox (FOXA). Talks are reportedly on hold at the moment, but both companies remain interested in the potential acquisition.
It's impossible to fully evaluate this hypothetical acquisition without knowing the details or the price point, but, in theory, this deal should be great for Disney. Most companies destroy shareholder value when they carry out large acquisitions, but Disney has bucked this trend in the past. The company's impressive content monetization platform gives it the ability to extract more value from intellectual properties than anyone else.
Since 2005, Disney has acquired Pixar, Marvel Studios, and LucasFilm for a combined $15.4 billion (~20% of the company's total invested capital). As Figure 1 shows, these acquisitions helped Disney increase its return on invested capital (ROIC) from 8% to 12% over that time.
Figure 1: Growth in ROIC Over the Past 15 Years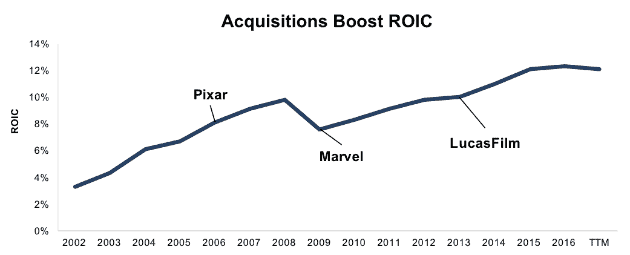 Sources: New Constructs, LLC and company filings
The Fox acquisition would give Disney several valuable pieces of intellectual property that the company could then plug into its monetization machine. Specifically, Disney would get
To round out the Marvel Cinematic Universe with X-Men.
The rights to Avatar and its four upcoming sequels. This content would be a great strategic fit, as Disney recently unveiled an Avatar themed area at Disney World's Animal Kingdom.
Original content from FX and the National Geographic channel that would help Disney build a more appealing streaming service.
There are also strategic advantages. Disney already has the leverage to extract favorable deals from movie theaters. Just imagine how much more bargaining power it will have after bringing a major competitor into the fold.
Last, but certainly not least, Disney would gain majority control of Hulu with this acquisition. While Hulu might not have the scale or flash of Netflix (NFLX), it actually appears to be the service poised to gain the most from cord-cutting. A controlling interest in Hulu would be a huge boost to Disney's plan to transition to streaming video.
ESPN Streaming Service
A standalone ESPN streaming service had already been announced earlier this year, but shareholders got more clarity during the company's 4Q17 conference call on November 9. The new service will be called ESPN+, will be advertiser supported, and should launch in the spring of 2018.
Meanwhile, Disney has already been exploring other means of bringing ESPN content to streaming platforms. ESPN is part of the Hulu Live service that launched earlier this year, and the network just announced that it will be launching a short-form version of SportsCenter for Snapchat (SNAP).
It's still early, but Disney is making the right moves to transition to streaming while preserving ESPN cash flows.
During the same conference call, CEO Bob Iger also announced that the Disney-branded streaming service planned to launch in 2019 will be priced "substantively below Netflix." This declaration is just the latest sign that Disney is serious about competing in the streaming space.
Growth in China
Disney's fourth quarter results were disappointing in most areas, but the company's Parks and Resorts segment stood out as a bright spot. Even with the negative impact of Hurricane Irma, Parks and Resorts grew revenue by 6% and operating income by 7% year over year in the fourth quarter of 2017.
Much of this growth was attributable to the success of Shanghai Disney. The park exceeded expectations for visitors and delivered positive operating income in its first year of operations despite predictions that it would only just break even.
On top of its park success, Disney continues to expand the rest of its business in China. It has invested in joint ventures, retail operations, and English language classes featuring Disney characters to build its brand. The addition of Avatar would be a big boon to Disney's expansion plans, as the film set the record for the largest Chinese box office for an American film when it was released.
This Year's Dip Sets Up Next Year's Gain
Disney's studio entertainment division ended 2017 with an 11% decline in revenue from the year before, but this drop was due mostly to an impossible set of comps. 2016 featured a $2 billion box office from Star Wars: The Force Awakens and four other films that either hit $1 billion or came within inches of that mark.
Still, it's mostly been another strong year at the box office for Disney. The live action Beauty and the Beast has been the top-grossing movie of the year so far, which is a good sign for the company's other live-action remakes in development such as The Lion King and Mulan. The strong performances of Guardians of the Galaxy Vol. 2 and Thor: Ragnarok also show that the Marvel Cinematic Universe is in no danger of running out of juice.
2018 looks to be a big year and will likely drive a reversal to the highs hit in 2016. Two new Star Wars movies, Avengers: Infinity War, sequels to animated hits The Incredibles and Wreck-It Ralph, and a film adaptation of children's classic A Wrinkle in Time are all set to hit theaters in 2018. If Disney does end up completing the Fox deal in 2018, that would further focus investor attention on the movie business and away from ESPN.
Finally, Iger announced that Disney plans to keep churning out Star Wars movies. Last Jedi director Rian Johnson will be developing another trilogy after Episode 9 is released. This decision is a no brainer for Disney, which looks set to profit from the Star Wars franchise for years to come.
Poised for Growth in 2018 and Beyond for the Parks
If 2017 was dominated by ESPN fears, 2018 should see Disney's successful studio and parks businesses come back to the fore.
Parks and Resorts should continue to grow in 2018. Disney continues to invest heavily in park renovations, new attractions, and cruise ships to grow this highly profitable segment of its business. A strong year for the studio segment should translate into more growth in parks and resorts.
Lastly, even if investors continue to focus on ESPN, early success from ESPN+ or Hulu Live could go a long way to easing fears over cord-cutting.
2017 was not a great year for Disney shareholders. From what we saw last week, 2018 and beyond should be much better.
This article originally published on November 14, 2017.
Disclosure: David Trainer, Sam McBride, and Kyle Guske II receive no compensation to write about any specific stock, sector, style, or theme.
Follow us on Twitter, Facebook, LinkedIn, and StockTwits for real-time alerts on all our research.
Click here to download a PDF of this report.
Photo Credit: Skitterphoto (Pexels)