ACI Worldwide (ACIW) – Closing Short Position – up 67% vs. S&P up 104%
We made ACI Worldwide (ACIW: $35/share) a Danger Zone pick on June 20, 2016. At the time of the report, ACIW received a Very Unattractive rating. We felt the firm's history of acquisitions was destroying shareholder value, its poor profitability presented challenges in an increasingly competitive industry, and its stock was trading at a level not supported by the fundamentals of the business.
This report, along with all of our research[1], leverages our more reliable fundamental data[2] to get the truth about earnings, as shown in the Journal of Financial Economics paper, "Core Earnings: New Data and Evidence."
During the 5+ year holding period, ACIW outperformed as a short position, rising 67% compared to a 104% gain for the S&P 500.
Since 2016, ACI Worldwide's return on invested capital (ROIC) has improved ever so slightly, from 3% to 5% over the trailing twelve months (TTM) while net operating profit after-tax (NOPAT) margins improved from 6% to 11% over the same time. Now, if the firm simply grows revenue at consensus estimates, the downside in the stock is limited, as measured by our dynamic discounted cash flow (DCF) model.
With limited downside remaining and significant outperformance as a short, we're closing this short position.
Figure 1: ACIW vs. S&P 500 – Price Return – Successful Short Idea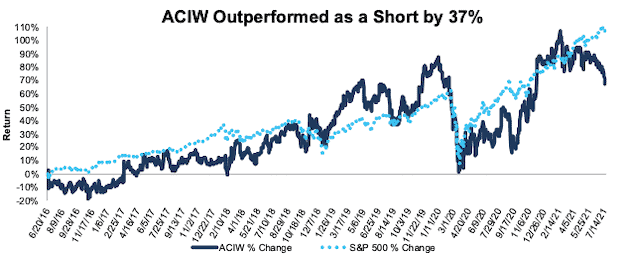 Sources: New Constructs, LLC and company filings
Note: Gain/Decline performance analysis excludes transaction costs and dividends.
This article originally published on July 20, 2021.
Disclosure: David Trainer, Kyle Guske II, and Matt Shuler receive no compensation to write about any specific stock, style, or theme.
Follow us on Twitter, Facebook, LinkedIn, and StockTwits for real-time alerts on all our research.
[1] Harvard Business School features our Robo-Analyst research automation technology in the case New Constructs: Disrupting Fundamental Analysis with Robo-Analysts.
[2] Three independent studies from respected institutions prove the superiority of our data, models, and ratings. Learn more here.