SPS Commerce (SPSC) – Closing Short Position – up 330% vs. S&P up 104%
We made SPS Commerce (SPSC: $143/share) a Danger Zone pick on August 29, 2016 and reiterated our opinion on the stock on August 26, 2019. SPSC earned a Very Unattractive rating when we published our first report and an Unattractive rating when we published our second report. Our thesis pointed out that the firm's revenue growth wasn't translating into profits, and the stock's valuation implied the firm would take an unrealistic level of market share.
This report, along with all of our research[1], leverages our more reliable fundamental data[2] to get the truth about earnings, as shown in the Journal of Financial Economics paper, "Core Earnings: New Data and Evidence."
During the 5+ year holding period, SPSC underperformed as a short position, rising 330% compared to a 104% gain for the S&P 500.
Our thesis played out as expected, in that SPSC could not maintain 30%+ year-over-year (YoY) revenue growth rates and improve margins. But, the firm did improve profitability, net operating profit after-tax (NOPAT) margin improved from 3% in 2016 to 13% TTM, but YoY revenue growth rates fell to the low teens.
However, investors didn't punish the stock for slower growth, as we've seen with other high-flying growth stocks when the growth story ends. Now, while the stock remains expensive relative to its fundamentals, its position in the fast-growing ecommerce and retail data solutions markets could provide continued momentum to push shares higher. As a result, we're closing this short position.
Figure 1: SPSC vs. S&P 500 – Price Return – Unsuccessful Danger Zone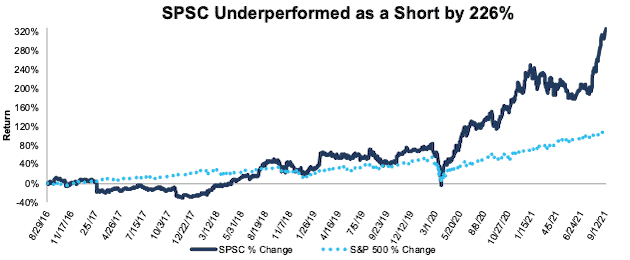 Sources: New Constructs, LLC and company filings
Note: Gain/Decline performance analysis excludes transaction costs and dividends.
This article originally published on September 15, 2021.
Disclosure: David Trainer, Kyle Guske II, and Alex Sword receive no compensation to write about any specific stock, style, or theme.
Follow us on Twitter, Facebook, LinkedIn, and StockTwits for real-time alerts on all our research.
[1] Harvard Business School features our Robo-Analyst research automation technology in the case New Constructs: Disrupting Fundamental Analysis with Robo-Analysts.
[2] Three independent studies from respected institutions prove the superiority of our data, models, and ratings. Learn more here.