Sky-high commodity prices and record profits from fossil fuel companies are attracting the (unwelcomed) attention of European and American governments, as evidenced by the U.K.'s recently announced windfall tax. This update to our Long Idea on TotalEnergies SE (TTE: $59/share) published on May 25, 2022, shows that even with a Europe-wide windfall tax, TotalEnergies' stock still has 85% upside.
Tax Risk Is Already Priced in TotalEnergies' Shares
The UK's decision to implement a special windfall tax on "excessive profits" of fossil fuel companies is potentially a sign of things to come for the rest of Europe. As we discussed in our recent report, windfall taxes represent short-term political posturing rather than a long-term threat to TotalEnergies' profit-generating operations. Excessive taxation of fossil fuel companies is ultimately not in the best interest for Europe as it seeks to become independent from Russian energy. Regardless of policy efficacy, even with a windfall tax, TotalEnergies is likely to continue to generate historically high after-tax profits.
To provide some background, the UK will implement an additional tax of 25% on hydrocarbon producers until "commodity prices return to more normal levels." Grumbling about energy prices is not limited to the UK, but the circumstances making such a tax seem like a good idea are somewhat particular to the UK. The tax is not only driven by record energy firm profits, but also the almost complete lack of tax liabilities for BP (BP) and Shell (SHEL) in the UK. These particular firms have cut their UK tax bills to zero for several years through decommissioning costs and depreciation expenses for their North Sea oilfields. The "special" tax was drafted so that it cannot be offset by expenses from North Sea activities. The situation of selling energy and booking profits in the same place where the hydrocarbons are produced is generally not an issue in continental Europe. Given the specificity of the situation, TTE is likely to dodge a blanket tax on energy profits.
However, for the sake of prudence we explore a scenario where we assume the rest of Europe follows suit with a similar policy. In such a case, TotalEnergies' net operating profit after tax (NOPAT) margin is likely to immediately fall since Europe accounted for 62% of TotalEnergies 2021 revenue. However, even after accounting for a windfall tax, TotalEnergies' NOPAT margin would remain above historical levels. An additional 25% tax on the net operating profit before tax (NOPBT) attributed to its European business would increase TotalEnergies' cash tax rate from 28% to 43% and drive NOPAT margins from 11% over the TTM to 9%.
At 9%, TotalEnergies' NOPAT margin would still be above its five-year pre-pandemic average NOPAT margin of 7% and its peer group's pre-pandemic average from 2017-2019 of 8%. Given that TTE is currently priced for NOPAT to fall 11% below its 10-year average (see "DCF Scenario 1" from our original report here), the stock has significant upside even after accounting for the impact of a windfall tax.
Below we use our reverse discounted cash flow (DCF) model to highlight the upside potential in TotalEnergies' shares even with the implementation of a windfall tax across all of its European business.
Shares Are Worth $109/share if All of Europe Adopts a Windfall Tax
We assume TotalEnergies':
NOPBT margin remains at TTM level of 15% in 2022 through 2036,
NOPAT margin falls to 9% (vs. 11% TTM) as windfall taxes are implemented in 2022 through 2036, and
revenue falls at a 2% CAGR from 2022 - 2036 (vs. consensus estimate of +4% CAGR from 2022 - 2024)
In this scenario, TotalEnergies' NOPAT falls 1% compounded annually over the next 15 years and the stock is worth $109/share today – 85% above the current price. In this scenario, TotalEnergies earns $18 billion in NOPAT in 2036, which is 29% below TTM levels.
Figure 1 compares TotalEnergies' historical NOPAT to the NOPAT implied in the above DCF scenario.
Figure 1: TotalEnergies' Historical and Implied NOPAT: DCF Valuation Scenario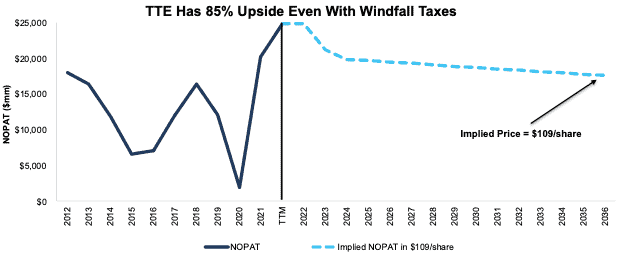 Sources: New Constructs, LLC and company filings.
This article originally published on June 3, 2022.
Disclosure: David Trainer, Kyle Guske II, and Matt Shuler receive no compensation to write about any specific stock, style, or theme.
Follow us on Twitter, Facebook, LinkedIn, and StockTwits for real-time alerts on all our research.