Four new stocks made November's Exec Comp Aligned with ROIC Model Portfolio, available to members as of November 15, 2017.
Recap from October's Picks
The best performing stock in the portfolio was NVR, Inc. (NVR), which was up 12%. Overall, nine out of the 15 Exec Comp Aligned with ROIC Stocks outperformed the S&P and 10 had positive returns in October.
This Model Portfolio highlights the value of our Robo-Analyst technology, which scales our forensic accounting expertise (featured in Barron's) across thousands of stocks.
This Model Portfolio only includes stocks that earn an Attractive or Very Attractive rating and align executive compensation with improving ROIC. We think this combination provides a uniquely well-screened list of long ideas because return on invested capital (ROIC) is the primary driver of shareholder value creation.[1]
New Stock Feature for November: Sysco Corporation (SYY: $55/share)
Sysco Corporation (SYY), the largest foodservice distribution network in the world, is one of the stocks in November's Exec Comp Aligned with ROIC Model Portfolio.
Since 1998, SYY's revenue has grown 7% compounded annually while after-tax profit (NOPAT) has grown 8% compounded annually. Figure 1 shows the remarkable consistency of SYY's revenue growth and NOPAT margins. Sysco recently garnered opportunities for international revenue growth with its acquisition of Brakes Group in 2016. This $3.1 billion deal gives Sysco a foothold in the U.K., France, and a number of smaller European countries.
Figure 1: SYY's Revenue and NOPAT Margin Since 1998
Sources: New Constructs, LLC and company filings
Executive Compensation Plan is Aligned with Creating Shareholder Value
33% of SYY executives' long-term performance share units (PSU's) are tied to three-year average ROIC. ROIC has been a target metric in Sysco's executive compensation plan since 2012. The amount of PSU's executives can earn is based on whether they hit the target ROIC set by the compensation committee.
The remaining 67% of PSU's are allocated based on adjusted earnings per share growth. Earnings per share is not a good metric to use for compensation purposes due to the number of ways it can be manipulated. We would like to see SYY put less emphasis on EPS and more emphasis on ROIC in determining executive compensation.
Still, the company does seem to have done a good job at maintaining a focus on ROIC. Figure 2 shows that SYY has maintained an ROIC above 10% in every year going back to 1998. In addition, SYY has grown economic earnings from $550 million in 2007 to $995 million TTM, or 6% compounded annually.
Figure 2: SYY's ROIC & Economic Earnings Since 1998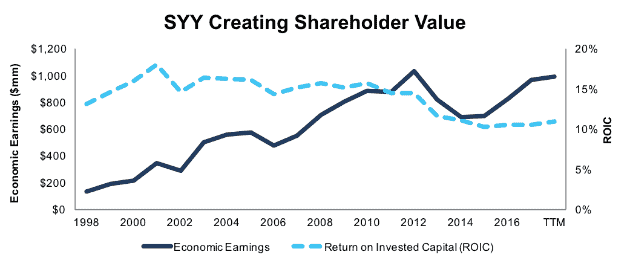 Sources: New Constructs, LLC and company filings
Even though SYY's ROIC has declined somewhat from its peak in the mid-2000's, it has the highest ROIC in the food distribution industry.
Low Valuation and Potential Upside Catalyst
At its current price of $55/share, SYY has a price-to-economic book value (PEBV) ratio of 1.0. This ratio means the market expects SYY's NOPAT to never grow from its current level. This expectation seems rather pessimistic given the company's 8% annual NOPAT growth over the past two decades.
If SYY can maintain TTM NOPAT margins (2.8%) and grow NOPAT by 4% compounded annually for the next decade, the stock is worth $73/share today – a 33% upside.
One catalyst that could propel SYY towards this higher valuation is the involvement of activist investor Nelson Peltz. Peltz gained a board seat at SYY in 2015 and has recently been adding to his stake. Peltz has a track record of creating shareholder value, and his recent buying could be a prelude to more positive changes or even a potential buyout.
Auditable Impact of Footnotes and Forensic Accounting Adjustments
Our Robo-Analyst technology enables us to perform forensic accounting with scale and provide the research needed to fulfill fiduciary duties. In order to derive the true recurring cash flows, an accurate invested capital, and a real shareholder value, we made the following adjustments to Sysco's 2017 10-K:
Income Statement: we made $788 million of adjustments, with a net effect of removing $411 million in non-operating expense (26% of NOPAT). We removed $189 million in non-operating income and $600 million in non-operating expenses. Our most notable adjustment was the removal of $289 million in hidden non-operating expenses due to acquisitions, restructuring, and pensions costs You can see all the adjustments made to SYY's income statement here.
Balance Sheet: we made $4.2 billion of adjustments to calculate invested capital with a net increase of $3.1 million. The largest adjustment was a $1.6 billion adjustment for midyear acquisitions. This adjustment represented 13% of reported net assets. You can see all the adjustments made to SYY's balance sheet here.
Valuation: we made $10.8 billion of adjustments with a net effect of decreasing shareholder value by $10.8 billion. There were no adjustments that increased shareholder value. The largest adjustment was $9.4 billion in total debt, which includes $475 million in off-balance sheet operating leases. This lease adjustment represents 2% of SYY's market cap. Despite the net decrease in shareholder value, SYY remains undervalued.
This article originally published on November 20, 2017.
Disclosure: David Trainer, Sam McBride, and Kyle Guske receive no compensation to write about any specific stock, style, or theme.
Follow us on Twitter, Facebook, LinkedIn, and StockTwits for real-time alerts on all our research.
[1] Ernst & Young's recent white paper, "Getting ROIC Right", proves the superiority of our research and analytics.